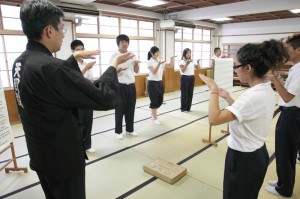 Oyasato Seminar, a spiritual development program sponsored by the Overseas Department for high-school-age participants from overseas, was recently held in Jiba. After students eagerly learned the teachings of Oyasama for approximately two weeks, English Course I, English Course III, and the Chinese Course had their closing ceremony on July 25 and the Portuguese Course ended on the 27th.
In the Service Dance class, students repeated the Mikagura-uta verses after their instructor. Since the students were scheduled to perform the service at the end of the program, their faces were both serious and enthusiastic during the class periods.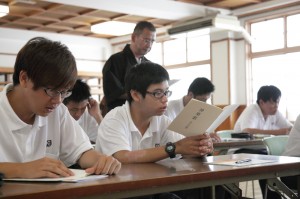 Wei Zhe Chang—an 18-year-old Chinese Course student who belongs to Jiayi Dongmen Church in Taiwan and who returned to Jiba for the first time—commented: "Before I came here, I studied the Mikagura-uta on my own, but there are still some parts that I don't understand well. I would like to embrace the true meanings of the songs and hope that I can sing them in Japanese in the future."
With the temperature exceeding 35℃ outside, students crossed the Jusan Pass on foot on the afternoon of July 16. Students endured walking under such extreme conditions for seven hours, wiping away their sweat as they headed toward the Main Sanctuary. Rachel Parker, an 18-year-old English Course I student who belongs to San Diego Church in America, said: "It was the first time I walked the Jusan Pass on foot and it was very challenging; however, along the way, our hearts connected as we got over the pass. When I realized that this was the very same pass that Kokan walked at the age of 17, I was inspired."
Meanwhile, English Course III students took part in the day and night duties of the Precincts Section of Church Headquarters for four days. The duties included standing guard at the Main Sanctuary and doing hinokishin as the Precincts Section's staff members do on a regular basis. Amy Ikuyo Morishita, a 17-year-old English Course III student who belongs to Brotherhood Church in America, shared her experience with a big smile, saying: "Since I cannot speak Japanese well, it took some courage to greet those followers who returned to Jiba. However, I pulled it through with the staff's encouragement and advice."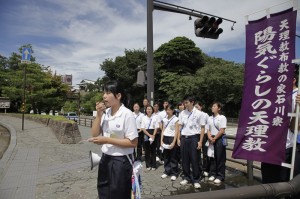 Students from each course also went to Aichi, Hiroshima, Ishikawa, and Hyogo, respectively, for their mission caravan. Then they engaged in spreading the name of God and took part in roadside speeches and door-to-door missionary work. In their roadside speeches, each student shared what they had learned in class and described their joys of living in faith. Pedestrians listened interestedly to the resonant voices of those students who came from different countries.
Zenji Yoshida Mizoguchi, an 18-year-old Portuguese Course student who belongs to Jardim dos Pinheiros Mission Station in Brazil, enthusiastically gave a roadside speech about God the Parent and Oyasama.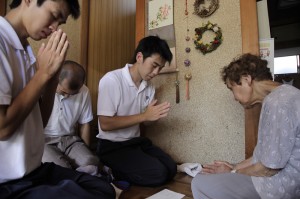 "While engaging in missionary work in unfamiliar places, I began to understand a little about the hardships that first-generation missionaries must have gone through. After going back to my country, I would like to keep in contact with my classmates so that we can encourage each other to deepen our faith," he said with his shining eyes.