This year's Oyasato Seminar ― a summer program that teaches high-school-age participants from overseas countries about the Tenrikyo faith ― began on July 10 for English Course I, English Course III, the Portuguese Course, and the Chinese Course, drawing a total of 65 participants from six countries and regions including Australia, Brazil, Hawaii, New Zealand, Taiwan, and the U.S. mainland. The students learned and implemented the teachings of Oyasama while working hard to cultivate their faith and sowing seeds of sincerity at Jiba and various other places.
In the first half of the seminar, students attended lectures covering the basic teachings and practice sessions for the dance and the musical instruments for the service. A Chinese Course student, Huang Yu-chun, did not feel close to God's teachings before coming to the seminar although he had opportunities to hear about them at the church he belongs to. He commented with a smile: "Through listening to the experiences of the lecturer and staff members, I was able to have a better grasp of the Tenrikyo teachings. I will keep my mind connected to my church and learn about the teachings in more depth."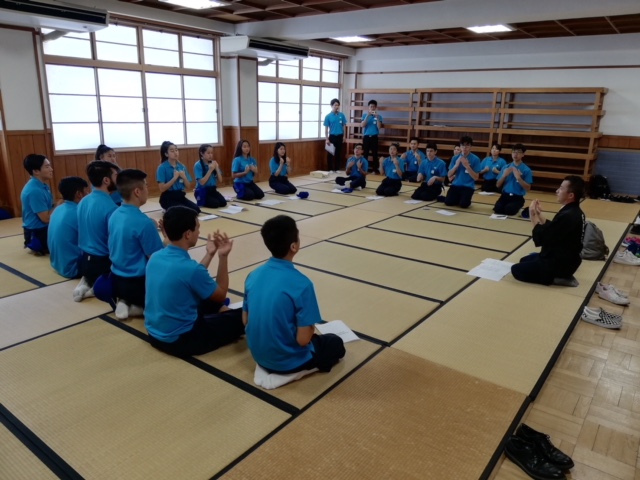 On July 16, all students except those of English Course III made their way to cross the Jusan Pass. Due to the heavy rain that had struck southwestern Japan in July, part of a mountain road was closed, and the event was conducted by changing the original route.
Meanwhile, English Course III students spent five days with staff members of the Precincts Section of Church Headquarters standing guard in 24-hour shifts and engaging in various other tasks. Among them was Alissa Higaki, who belongs to Ho'opono Fellowship in Hawaii. She grew up watching her father doing missionary work and had naturally developed an interest in the Tenrikyo teachings. She took Course I last year at the suggestion of her father and church head minister. Her experiences at the seminar motivated her to learn more about the Tenrikyo teachings, and this year she applied for Course III. She said: "Standing guard for a long time was a lot of work, but I was impressed by the late-night ambience of the Main Sanctuary and the caring and attentive attitude of the Precinct Section members. Some followers talked to me and said: 'Good job on such a hot day,' and I felt even more strongly that I wanted to help people."
In the second half of the seminar, students set out on their mission caravan trips to their respective destinations, where they engaged in missionary work with members of their local missionary houses.
Portuguese Course students were based in the Ishikawa Diocese Administration Office. Gabriel Gusman, an 18-year-old student from Brazil, had made a pilgrimage to Jiba for the first time, following the wishes of his late father, an ardent follower of Tenrikyo, who had passed away for rebirth three years ago. Gabriel engaged in missionary work such as spreading the name of God and door-to-door missionary work, while feeling something special about this experience.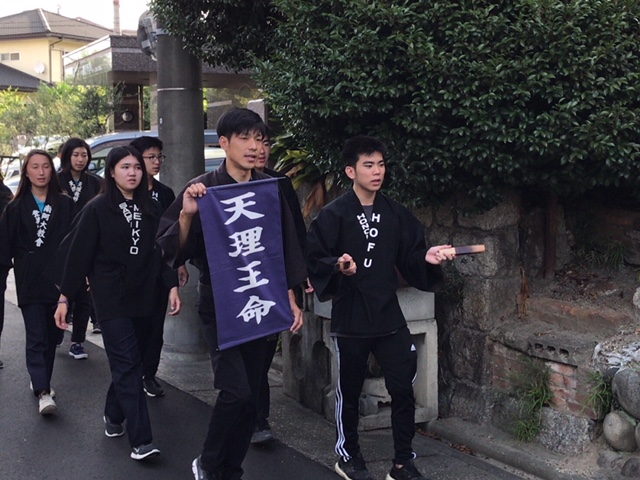 He said: "My family and I were saved after hearing about the Tenrikyo teachings from a missionary who had come from a Tenrikyo church to sprinkle the fragrance of the teachings. During door-to-door missionary work, I felt a little frustrated due to a language barrier, but I worked on the task in the hope that I could give someone a chance to be saved. After returning home, I will work hard to sprinkle the fragrance of the teachings and save others with a view to making repayment."
The Korean Course, which started on August 3, will finish on August 15.