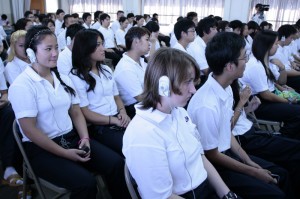 The 2011 Oyasato Seminar—a summer program that teaches high-school-age participants from overseas about the faith—began on July 10. Sixty-seven participants from four countries will spend the next two weeks in Jiba immersed in the path.
The Oyasato Seminar was first launched in 1984 as a program to nurture successors of the faith living outside Japan. The seminar has since become an annual summer event in which participants attend classes covering the teachings and activities to implement the teachings.
On July 10, English Courses I (counselors: David Inouye and Mary Tomizawa) and III (counselors: Nicole Saito and Steven Yukimoto), as well as the Chinese and Portuguese courses, began. Participants hailed from Brazil, Canada, Taiwan, and the U.S. Twenty-seven participants came from Brazil alone—a number higher than average years, which is likely because the Mission Headquarters in Brazil just held its 60th anniversary celebration last month.
The opening ceremony was held at Tenrikyo Language Institute. Overseas Department Head Yoichiro Miyamori gave an address and encouraged the participants, saying: "You can expect all kinds of things to happen during the seminar. If there is someone at your side who is having a hard time, I'd like you to think about what you can say to help that person. Also, I assume that everyone is here because someone suggested you to return to Jiba. I'd like all of you to come in contact with Oyasama's teachings while thinking of those people who suggested you to be here to attend the seminar." Students and staff members then headed to the South Worship Hall to conduct a prayer service to pray that the seminar would run smoothly.
The first half of the seminar will offer classes covering the basic teachings of Tenrikyo, service dance lessons, and musical instruments practice. Other activities include crossing Jusan Pass and engaging in hinokishin standing guard at the Main Sanctuary with members of the Precincts Section of Church Headquarters.
The second half of the seminar will give participants an opportunity to engage in missionary work at one of the many Tenrikyo missionary houses across Japan. Participants are scheduled to do roadside speeches and engage in door-to-door missionary work.
A total of 74 people, including instructors from participants' countries, make up the Oyasato Seminar staff this year. The Chinese Course and both English courses will end on July 25 while the Portuguese Course will end on July 27. The Korean Course is scheduled to be held between August 5 and 17.