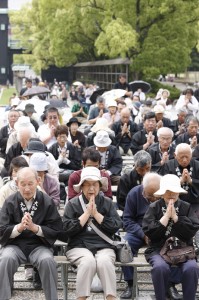 The May Monthly Service of Tenrikyo Church Headquarters was conducted on the 26th, with the Shinbashira presiding.
Although the Kinki region surrounding the Home of the Parent had entered the rainy season, the day was blessed with balmy May weather. Sunlight spilled through thin clouds and shone on the fresh foliage in the eastern mountains.
Shortly before 9:00 a.m., the Shinbashira and other Service performers left the Staff Quarters for the Foundress' Sanctuary and the Memorial Hall to pay their respects before proceeding to the Main Sanctuary.
In the prayer, after expressing appreciation to God the Parent for lovingly guiding us toward the Joyous Life with the intention to save everyone in the world, the Shinbashira went on to say: "God the Parent, as we encounter a variety of knots, we Service performers as well as church head ministers and Yoboku will deeply ponder Your parental concern over the dreadful and dangerous paths opening before us. Based on Your teachings, we will correct our propensity to be focused on our own interests, joys, and sorrows. We will firmly settle in our minds Your intention that desires the harmonious union of all humanity and are determined to exhaust our utmost sincerity toward world salvation and the construction of the world."
This was followed by a joyous performance of the Kagura and Teodori. As the voices of returning followers singing the Mikagura-uta echoed inside and outside the Sanctuary, an occasional breeze blew and carried the scent of fresh foliage through the Sanctuary precincts.
After the Service performance, Honbu-in Yoshiji Nishida took the lectern to deliver the sermon. He began by mentioning the identification of Jiba that took place on the lunar calendar date of May 26, 1875. After a short description of the Causality of the Promised Time, the Causality of the Soul of Oyasama, and the Causality of the Residence, Rev. Nishida explained that at the identification of Jiba, Oyasama revealed the spot within the Residence from which these Three Causalities had emanated.
Then, while referring to the Ofudesaki, the Osashizu, and The Life of Oyasama, Rev. Nishida summarized Oyasama's model path from when She was settled as the Shrine of Tsukihi until the identification of Jiba. In this summary, he mentioned how people spiritually matured into Yoboku or building materials to be used for the construction of the Joyous Life World through the construction of the Place for the Service. He said: "Once people demonstrated such spiritual maturity, Oyasama taught the songs and hand movements for the Service in addition to preparing the necessary instruments and implements. The Jiba was identified amid these efforts of Hers to teach us the Service." He went on to explain, "Jiba, where the Service that brings forth a myriad of saving graces is performed, is truly one of the ultimate components of Oyasama's model path in which She sought to complete the Service."
Rev. Nishida then mentioned that the Story of Creation was taught to explain the truth of the Service. He said, "The path to the Joyous Life opens when husbands and wives and parents and children learn and implement this story of how God the Parent gave birth to and nurtured human beings." Further: "God blesses married couples with children for the purpose of building joyous and cheerful families, which in turn leads to the building of cheerful societies. When a husband and wife consult and help each other in all matters, this leads to the settling of harmony in the family. When a family demonstrates such harmony, the truth of the path can then be widely reflected to the world."
Finally, Rev. Nishida closed his sermon by saying, "I would like to continue journeying on the path of salvation together with all of you as a Yoboku among many by connecting myself to the original causality through the performance of the Service."