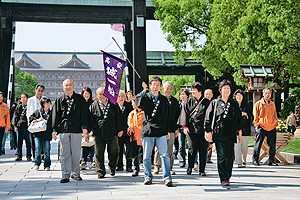 Followers heading for the Main Sanctuary for the April Monthly Service (Apr. 26)
The April Monthly Service of Tenrikyo Church Headquarters, attended by followers from all parts of Japan as well as overseas, was solemnly conducted on the 26th with the Shinbashira presiding as chief officiant. The azaleas and pansies decorating the west approach to the Main Sanctuary added color to this pleasant spring day.
At 9:00 A.M., the Shinbashira and other Service performers left the Staff Quarters. Amid the solemn sounds of gagaku music, they offered worship at the Foundress' Sanctuary and the Memorial Hall before proceeding to the Main Sanctuary.
In the service prayer, the Shinbashira thanked God the Parent for always embracing us with profound and warm parental love. He then spoke about the Seminar for Successors, which had been held in 30 sessions between last August and this April, saying: "Here in the Home of the Parent, more than 23,000 young followers of the path deepened their understanding of the teachings, reflected on the footsteps of our predecessors who walked the path of the Divine Model of Oyasama, and took another look at their own faith. Through the seminar, they were able to solidify their resolve to live in a manner based on the teachings as well as to strengthen mutual ties among them." He concluded his prayer by saying, "Taking Your hastening for the construction of the world as a matter of our own concern, we Service performers as well as church head ministers and other Yoboku are resolved to make progress in walking the path in single-heartedness with God and to engage in the tasks of the path spiritedly."
The joyous performance of the Kagura Service and the Dance with Hand Movements followed, filling the precincts with the spirited voices of followers singing the songs for the Service and the joyous sounds of the musical instruments.
Honbu-in Toyoo Tsuji then took the podium to deliver the sermon. He spoke about Oyasama's Divine Model, through which She taught us the Service as the path of universal salvation, and quoted passages from the Ofudesaki and The Life of Oyasama to emphasize the importance of performing the Service and the daily services. "Calling out the name of God daily while putting your hands together in worship of God the Parent," he said, "is an act of prayer that has become increasingly necessary in this day and age. . . . Through our performance of the daily services, God the Parent grants us the strength to live cheerfully and spiritedly. It is due to our performance of the morning and evening services with a sincere mind that we can cope with illnesses and troubles without letting our spirits fall, and from there, we can make progress toward solving them."
Rev. Tsuji went on to explain how an illness that befell him renewed his conviction in relying completely on God the Parent. "Everything that happens in our lives, including knots in the form of illnesses and troubles," he said, "is a 'guidance' from God the Parent, who sweeps away our dusts of the mind and guides us toward the Joyous Life. Understanding that all things happening in our lives embody God's parental love and keeping a spirited mind without allowing our spirits to fall is what is taught as tanno, or joyous acceptance. . . . When we walk the path each day while upholding the mind of joyous acceptance, the people around us will see our actions as the embodiments of sincerity. We are taught that, being followers of the path, we should sweep away the dusts of the mind consistently, rely on God the Parent wholeheartedly, devote ourselves to following the Divine Model of Oyasama, and walk the path with a commitment to save others."
He asked the congregation to participate in the annual Tenrikyo Hinokishin Day on April 29 and concluded his sermon by saying, "Aiming toward the next milestone while keeping the Divine Model of Oyasama as our guide, let us walk the path with a joyous and spirited mind so that all of us can make progress toward the realization of the Joyous Life World so desired by God the Parent."