This year's Tenrikyo Hinokishin Day was observed on April 29 at over 1,500 locations in Japan under the slogan "Let's unite our joyous and spirited minds as one." Hinokishin Day is intended to help followers living in the same community savor the joy of being kept alive by performing hinokishin together and thus enable them to strengthen their mutual ties. This annual event also provides all Yoboku with an opportunity to put the finishing touches to their regular hinokishin activities. This year, each district made an effort to invite as many followers as possible to participate in Hinokishin Day, utilizing the campaign to hand-deliver the Tenri Jiho newspaper.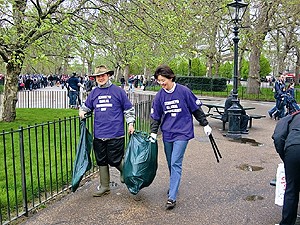 Hyde Park, London (Apr. 27)
In the Home of the Parent, 56 groups of participants, comprising some 4,500 people altogether, assembled in Church Headquarters' Inner Courtyard to commence the event. They included staff members of Church Headquarters as well as students of Shuyoka, the Spiritual Development Course, and Tenrikyo schools. On that day, the weather in Japan was sunny, and the temperature reached as high as 24ºC (75.2ºF). Following a moment of prayer and a speech by Religious Affairs Bureau Head Hiroaki Yamazawa, the participants headed for their respective hinokishin sites, including creeks and canals as well as institutions such as the train station, police station, hospitals, community centers, and public schools in Tenri City. They all returned to the Inner Courtyard by 3:00 P.M., when Director-in-Chief of Administrative Affairs Masahiko Iburi made a brief address to conclude the event by saying, "Since hinokishin is the very basis for our lives of faith, I would like all of you to engage in hinokishin activities on a daily basis."
Honolulu Zoo, Hawaii (May 3)
Plans were also made to hold Hinokishin Day at approximately 120 sites in 28 countries besides Japan by the end of June. In Hong Kong, Hinokishin Day was observed on May 1 at Ma On Shan Country Park, where over 50 followers pulled weeds and relocated trees. This year marks the 30th anniversary of Tenrikyo Mission Center in Hong Kong, and Hinokishin Day has been held for 30 years as well. Minami Hong Kong Church Head Minister Mitsuko Kitamura reflected on past hinokishin activities by saying: "Since we used to change our hinokishin site each year, we did not have many regular participants. Now that we have chosen to hold Hinokishin Day at this park every year, however, the number of participants has been increasing little by little." Mission Center Head Michinobu Nakajima said: "In Hong Kong, missionary activities such as handing out pamphlets and doing door-to-door missionary work are limited by government policy. Through hinokishin activities like this, therefore, we hope to sprinkle the fragrance of the teachings."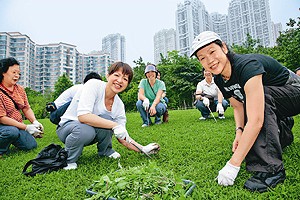 Ma On Shan Country Park, Hong Kong (May 1)
As for the other parts of the world, in Coacalco, Mexico, some 20 people cleaned an orphanage on April 19. In London, 29 followers picked up litter at Hyde Park on April 27. In Kaohsiung, Taiwan, a total of 63 participants pulled weeds at Jen Ai Park on April 27. In Colombia, 54 followers cleaned a nursing home for the elderly in Jamundi and cut weeds in its garden on April 27. In São Paulo, Brazil, Hinokishin Day was held at Ipiranga Independence Memorial Park on May 1, drawing 865 participants. After the event, there was a performance by São Paulo district's fife-and-drum band consisting of 130 members. In Honolulu, 144 people, including 24 from Leilehua High School Band, which visited the Home of the Parent in March this year, engaged in clean-up hinokishin at Honolulu Zoo on May 3. In Calcutta, India, 13 people cleaned Calcutta Church and its precincts on May 4. On the same day, in New York, some 80 people engaged in earth-carrying hinokishin at New York Center, whose main sanctuary is under construction. Ten of these participants went on to donate blood at a nearby hospital, marking the 25th year of this particular hinokishin activity.