Under the slogan "Let's convey a sense of gratitude and expand the circle of joy," this year's Tenrikyo Hinokishin Day was observed at various locations throughout Japan as well as in 31 overseas countries and regions on or around April 29. Expressing their gratitude for being kept alive by the blessings of God, participants worked up a good sweat as they spiritedly engaged in hinokishin activities in their communities.
The Home of the Parent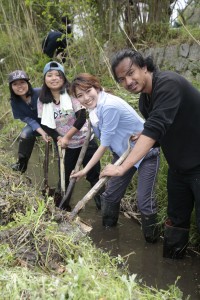 In the Home of the Parent, roughly 4,000 people—including staff members of Church Headquarters as well as students of Tenrikyo schools and Shuyoka, the Spiritual Development Course—engaged in hinokishin at 53 locations throughout Tenri City. At 8:30 a.m., the participants assembled in the Inner Courtyard of Church Headquarters. Following a moment of prayer and a speech by Director-in-Chief of Religious Affairs Hiroaki Yamazawa, they headed for their respective hinokishin sites.
At sites behind the Overseas Department's Annex, a total of 43 students from Shuyoka and the Junior Seminary engaged in hinokishin tasks by removing weeds.
Ryoichi Kimura, a 22-year-old Brazilian who recently graduated from Tenrikyo Language Institute's Japanese Language Department and currently studies at the Junior Seminary, said while doing hinokishin: "Learning the teachings again from the beginning, I have been able to reconfirm the greatness of this path and the blessings of God the Parent. I will work hard to settle the teachings in my mind so as to share the delight of the Joyous Life with people in Brazil."
Chuko District, Aomori Prefecture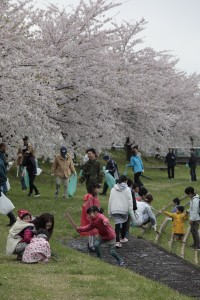 Followers in Chuko District cleaned a park near Hirosaki Castle, which is known as one of the most beautiful cherry blossom spots in Japan. The cherry trees were in full bloom on the day when the 110 participants picked up litter in high spirits.
Kaori Yamashita, who took part in the event with her three children, said: "I've had a kidney disorder since I was born. I'm grateful for God's blessings that allow me to engage in hinokishin with my kids like this. Through hinokishin, which is a way to make repayment for the blessings, I would like to convey the teaching of 'a thing lent, a thing borrowed' to them."