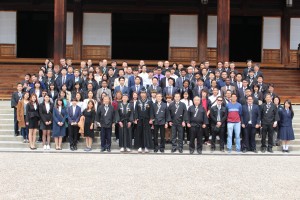 With cherry trees in full bloom, entrance ceremonies of Tenrikyo schools were recently conducted in the Home of the Parent, where a total of 2,150 new students embarked on their new school life.
Tenri University welcomed 804 new students on April 1; Tenri Healthcare University 109 on April 3; Tenri Seminary 113 on April 5; Tenri High School's Evening Course 102 on April 6; Tenri Kyoko Gakuen High School 218 on April 6; Tenri Elementary School 104 on April 6; Tenrikyo Language Institute 60 on April 6; Tenri High School's Day Course 419 on April 7; Tenri Junior High School 155 on April 8; and Tenri Kindergarten 36 on April 10.
This spring, Tenri University launched a new graduate program in Religious Cultural Studies, to which one student was admitted.