The December Monthly Service of Tenrikyo Church Headquarters was performed on the 26th in the Main Sanctuary with the Shinbashira presiding as chief officiant.
In the Service prayer, after expressing appreciation for God's constant guidance and providence, the Shinbashira said, "We express our gratitude for Your deep parental love shown during this year, and, having taken a fresh look at the steps we have taken so far, all of us Service performers as well as church head ministers and other Yoboku are determined to walk the path of making repayment for the blessings with a renewed mind."
The prayer was followed by the joyous performance of the Kagura Service and the Dance with Hand Movements.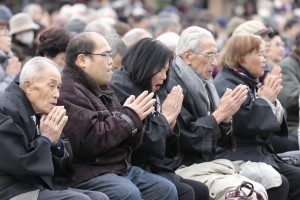 Although the weather in the Home of the Parent had been cloudy since morning, the sun occasionally peeped through the clouds during the Service. Worshipers joined in single-heartedly singing the songs for the Service.
Following the Service, Honbu-in Masahiko Iburi took the podium to deliver the sermon. Speaking on the path of Oyasama's fifty-year Divine Model, he quoted the following words of Oyasama from Anecdotes of Oyasama: "Unless you fall to the depths of poverty, you cannot understand what sufferers feel. Even water, once fallen to the bottom, will rise again" (no. 4). He then explained, "Through these words, we can fully appreciate Oyasama's intention in laying the path of single-hearted salvation to save all human beings, who are Her children." He went on to say, "She thus indicated an important point that we should always keep in mind as Tenrikyo missionaries."
He also pointed out that, through the path of Her Divine Model, Oyasama taught the essence of the way of thinking and living that is indispensable for those of us who rely on Oyasama, connect our minds with Jiba, and work to implement the Service and the Sazuke while striving to realize the Joyous Life.
Rev. Iburi furthermore emphasized that, even in a world of rapid changes, the path of the Divine Model provides the standard and the dependable guide for those of us who are working toward the Joyous Life. He concluded his sermon by saying, "Relying entirely on the path of the Divine Model, let us ensure that we make sure and steady progress in our spiritual growth."