On July 15 and 16, "Tenri Forum 2016: Pathways of Salvation" was held in South Right Wing 2 of the Oyasato-yakata building-complex, drawing a total of 206 English-speaking followers from 12 countries and regions. The Forum aims to provide opportunities for English-speaking followers to gather in Jiba, discuss ways to engage in appropriate ministries for the overseas mission today, and pledge together to put them into action. The event was mainly planned and run by followers in Australia, Canada, the United Kingdom, and the United States and was conducted entirely in English.
Tenri Forum was first held in 2006, the year of the 120th Anniversary of Oyasama. Continuing its spirit, Hawaii Convention 2011 was held five years later, which was sponsored by Tenrikyo Mission Headquarters of Hawaii. These gatherings gave English-speaking followers increased opportunities to share their views on the overseas mission.
Tenri Forum 2016 comprised six presentation sessions and several discussion sessions. At the opening ceremony of the forum, Honbu-in Masahiko Iburi took the podium to deliver a speech. He spoke about the first Tenri Forum as well as his long-term experience in the development of human resources for the overseas mission. Referring to a company's motto, the "Power of Dreams," he said: "Our ultimate dream is to bring the Joyous Life World into reality. So long as we hold on to this dream, Oyasama will help us move forward. So with this in mind, I'd like to confirm with all of you here that dreams will give us the power to move forward."
After the opening ceremony, various pathways to sprinkle the fragrance of the teachings and engage in salvation work were presented. Participants were able to gain knowledge that might be useful in conveying the teachings properly and study the fundamental aspects of the teachings with a fresh mind.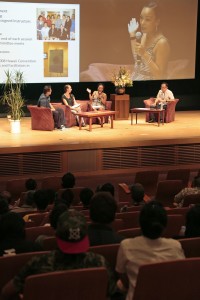 In the session entitled "The 'Business' of Engaging in Salvation Work," three followers residing in the United States appeared on the stage. Bringing up companies such as Hewlett-Packard and Timberland as examples to illustrate how corporate social responsibility activities could be conducted based on religious beliefs, the panelists shared their experiences in their respective professions and church activities and discussed how to incorporate religious belief into business administration. One of the speakers, Kelly Turner, who is a Yoboku belonging to Los Angeles Central Church, has marketed more than 200 Hollywood films. She said, "I find that film making processes mimic the Joyous Life in that a great many people need to work together for one purpose. In that sense, maybe we can call films 'Joyous Products,' which I'd like to continue promoting." Moreover, when asked how her faith helped her with her work, she said: "Oyasama said to buy dearly and sell cheaply. . . . I appreciated having that teaching in front of me so I can know that is the Tenrikyo way of going about running business. That is how I applied the teachings."
One of the discussion sessions was about the English Singable Danceable Mikagura-uta (SDM). SDM has been worked on over a long period of time and, in this session, the current state of progress was presented, where the seated service and the Eight Verses of the Yorozuyo in English were demonstrated.
Day Two started off with a session on substance abuse, which has been a serious problem in American society. Ben Tadokoro, who works as a social worker in the United States and who is also a Yoboku belonging to High Sacramento Church, joined the session via Skype. He explained how to respond to those who have substance abuse problems and provided information about their symptoms.
In another session, entitled "Faith-Based Community Engagement," various salvation activities in Brazil and Nepal were presented by followers from those countries.
Julia Yuge, a 20-year-old Yoboku from New York, commented: "I got a fresh reminder of the importance of faith through listening to the people who rely on the teachings in following the path, regardless of the environments and circumstances they live in. I had good discussions, where I was able to share my thoughts with others." Samuel Gorman, a 30-year-old follower from Dallas, Texas, participated in Tenri Forum for the first time. He said: "I felt that all sessions embodied sincere feelings and thoughts of followers, and I was able to gain a wealth of knowledge about the teachings as well as about pathways of Tenrikyo's mission. I'm going to attend the Besseki lectures after the Forum. Today, there are only a few Tenrikyo followers in Dallas. I would like to convey what I learned here so that I can spread the teachings in Dallas."
Tenri Forum was live-streamed on the Internet and viewed by roughly 530 people.