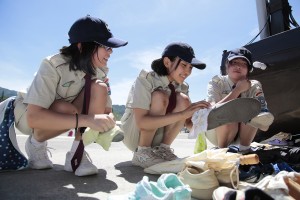 The July Monthly Service of Tenrikyo Church Headquarters was conducted at the Main Sanctuary on the 26th with the Shinbashira presiding as chief officiant. In the prayer, the Shinbashira referred to the Children's Pilgrimage to Jiba and said: "We are hoping that as many members of the Boys and Girls Association as possible will return here to the Home of the Parent this summer and participate in various activities and attractions. Please grant us the blessings that allow them to deepen their joy of living while receiving the Parent's providence, follow the path straightforwardly, and thereby grow into fine Yoboku. In addition, we ask for Your guidance so that everything will go smoothly during the period." The Kagura Service and the Dance with Hand Movements were then performed joyously.
It was extremely hot all over Japan on that day due to high atmospheric pressure. Preparations had been completed for the Children's Pilgrimage to Jiba, which was scheduled to begin in the afternoon. The Home of the Parent was lively with great numbers of people including pilgrimage groups bearing flags, members of the Boys and Girls Hinokishin Corps, and students wearing matching T-shirts for the activities and attractions where they were to engage in hinokishin. In this festive atmosphere, the followers joined in singing the songs for the Service with their minds in unison.
Following the performance of the Service, Rev. Eiichi Imamura gave the sermon. After mentioning the Children's Pilgrimage to Jiba and the High School Division of the Students Training Course, which was scheduled to take place following the Children's Pilgrimage, he talked about the vertical mission. Saying that members of the Boys and Girls Association and the Students Association are at ages where they are undergoing rapid physical and psychological changes, he explained that the vertical mission is far from easy, and thus the mission requires nurturers' full attention and consideration suitable for the level of development of children and young people. In order to help them grow into true Yoboku who can help save others, he encouraged parents to take full advantage of the activities of the Boys and Girls Association and the Students Association and have their children participate in these activities.
By quoting a passage from a Divine Direction that says, "Becoming parent and child is entirely due to causality" (Osashizu, April 9, 1907), and also by introducing the story of some of our predecessors, Rev. Imamura shared his thoughts on how parents and children are tied together based on the causality of their previous lives. Explaining that the relationship between parents and children is a relationship for mutually making repayment for their mutual indebtedness, he emphasized the importance of being aware of the causality to become husband and wife, and parents and children, as we carry out our responsibilities as parents.
He then said that the Divine Model of Oyasama is our guide for spiritual growth and the most important example for us to emulate to nurture the future successors of the path. Quoting from The Life of Oyasama, Foundress of Tenrikyo, he went on to say: "What we say and do as parents in the course of our daily lives has a huge influence on children's minds whether we are aware of it or not. Parents should maintain their conviction of faith, basing themselves on the Divine Model of Oyasama. The important thing is to lead their lives with a sense of joy under any circumstances."
Lastly, Rev. Imamura talked about the importance of always bearing Oyasama in mind and using what She taught as a guide for our speech and action in every situation by asking ourselves, "What would Oyasama think or say in this situation?" Encouraging the listeners to show children the joy of following the path and help them bear Oyasama in their minds as well, he closed his sermon by saying: "When the teachings of the path are handed down from parents to children, from children to grandchildren, without interruption, we can make great progress toward the realization of the Joyous Life. Let us tirelessly continue our efforts to engage in the vertical mission so that the eternally unchanging joy of faith is spread all over the world even a day sooner."