The Oyasama 130th Anniversary Yoboku Gatherings came to an end in June. Now well into the second half of the pre-anniversary season, Yoboku and followers are proactively increasing their efforts in salvation work in various parts of the world. What follows is the Tenri Jiho newspaper's report on activities at the Europe Centre and the Mission Center in Colombia.

European followers striving to fulfill their resolutions with youthful energy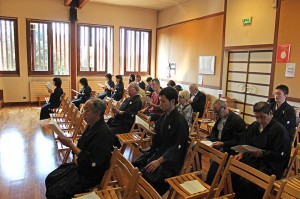 "As instruments of Oyasama, we intended to make continuous efforts to fulfill our resolutions of bringing a total of 350 pilgrims to Jiba from Europe and administering the Sazuke a total of 13,000 times in this pre-anniversary season," Tenrikyo Europe Centre Head Yoshihisa Hasegawa said in the prayer at the centre's September monthly service, which drew about 25 Yoboku and other followers residing in France.
Rev. Hasegawa commented: "In the past pre-anniversary activities, we didn't specify any target numbers to achieve in our resolutions. Since salvation work is emphasized for this upcoming anniversary in the Tenrikyo community, we decided that our pilgrimages to Jiba and administrations of the Sazuke would be at the core of our pre-anniversary activities. All of us Yoboku affiliated with the centre are committed to putting them into practice with our minds in unison."
Located in Antony, a Paris suburb, Tenrikyo Europe Centre was established in 1970 by Church Headquarters. There is one Tenrikyo church and 18 mission stations in Europe, and about 450 Yoboku live in France and 22 other European countries, according to Tenrikyo Overseas Department.
Two years ago in December, leading members of the Tenrikyo community in Europe including mission station heads met at the centre to discuss their resolutions towards the anniversary. Some participants, however, expressed their hesitation about having concrete numbers in them.
"Since people in Europe respect the will of individuals, quite a few people feel awkward about 'target numbers.' At the meeting, a variety of ideas of what we could do were proposed and discussed by the participants," said Rev. Hasegawa, reflecting upon the meeting.
The discussion went in accord with a Divine Direction that says, "Everything will settle after you resolve" (Osashizu, November 3, 1891). As a result, participants unanimously decided to set the concrete numbers as the "resolutions of all the followers in Europe."
Their efforts bore fruit right away. In Bordeaux Church, located in the southwestern part of France, the number of the Sazuke administrations greatly increased due to the efforts made by its church members. Further, three French people attracted by the teachings returned to Jiba and received the truth of the Sazuke last year.
The Oyasama 130th Anniversary Yoboku Gatherings took place in May this year, drawing a total of 186 participants at eight venues across Europe. In July, the centre held the Tenrikyo Europe Reunion, which was attended by 66 followers from five countries. The program of the reunion, which is an annual gathering for followers in Europe, focuses on "bringing spiritual awakening" and "fostering human resources." Last year, participants relearned how to administer the Sazuke and encouraged one another to increase their Sazuke administrations. This year's participants had an opportunity to reflect on the Yoboku Gatherings and shared their thoughts about what they wanted to do to help others. They were able to pledge together once again to carry out their salvation work.
"It is important to strengthen mutual ties among followers in Europe in this pre-anniversary season," said Young Men's Association Europe Chapter Chairman Ronald Malbosc, who became chairman last September. This June, the Europe chapter started a new activity where its members go on road trips to visit Tenrikyo centers all around Europe. They will have visited all mission stations in Europe by the 130th Anniversary of Oyasama.
"In order to boost our activities, we definitely need an increasing number of so-called 'native generation' members, who were born and raised in Europe and don't speak Japanese as a native language," said Chairman Malbosc enthusiastically.
Further, as a means to help guide "native generation" followers, the centre organizes an annual event called "palette," a three-day discussion-based program where people aged between 15 and 35 get together regardless of their nationality and position.
Ikuko Nagao, a 26-year-old staff member of the program, stressed the positive effects of the program by saying: "Participants are able to reflect upon a connection between the path and themselves through this program. It is also a good opportunity for them to share their personal worries with others."
Thanks to the efforts that those in leading positions and young followers have made to fulfill their resolutions, other followers are also taking salvation work as part of their faith. The number of the Sazuke administrations exceeded 5,000 as of the end of July 2014.
Rev. Hasegawa commented: "It is very encouraging that young followers bring a variety of ideas and put them into practice. We would like to further enhance our centre's activities so that we can support what our fellow followers are doing. Moreover, we want to have all followers in Europe on board to work with us to make strides in carrying out our resolutions."

Focusing more energy on nurturing local human resources
Tenrikyo Mission Center in Colombia is located in the southwestern Colombian city of Cali, halfway up the Andes. Although the country is astride the equator, the climate in Cali—which is
nearly 1,000 meters (3,280 ft.) above sea level—is moderate.
Two years ago in March, the center conducted the service to commemorate its 40th anniversary in the presence of the Shinbashira. In preparation for the anniversary, the center had made a variety of efforts such as organizing church sleepovers and forming a fife and drum band for children, as well as providing karate training lessons. Rev. Naotaro Shimizu, head of the center, said: "We had been nurturing human resources towards our anniversary through various activities. Towards the 130th Anniversary of Oyasama, we are trying to enhance those activities in the hope of nurturing local followers."
The path in Colombia started in 1960 when 17 students from Tenri High School Evening Course immigrated to the country as agricultural workers. There are currently three churches, six mission stations, and nine fellowships in the country, which is home to 192 Yoboku.
In July 2011, the center called on senior followers to start a meeting to discuss and organize various events and activities at the center. In one of the sessions of the meeting, they set seven activity guidelines: "doing salvation work," "performing the service," "doing hinokishin," "carrying out missionary work," "increasing support for forming fellowships," "educating and nurturing Yoboku leaders," and "educating and nurturing followers."
The Yoboku Gatherings, held at two venues in Colombia this March, drew a total of about 100 people from various parts of the country. Last April, Tenrikyo Introductory Course was started as a nurturing program to implement the activity guidelines and continues to be held as one of the center's pre-anniversary activities. The course has been conducted 11 times at several venues including follower's houses. As many as 250 people have attended the course, which provides participants with an opportunity to watch a video explaining the Tenrikyo teachings, listen to faith experience speeches, and practice the service. Participants can also have the Sazuke administered to them by instructors.
One of the distinctive aspects of the course is that local followers serve as instructors after attending preparatory training. It is not uncommon that they invite their friends and relatives to participate in the course and that even after the course some participants ask their instructors to help with their problem or to administer the Sazuke.
Rev. Shimizu said: "I consider it important to convey the teachings from local people's perspective while trying to understand this country's cultures and traditions. Local followers have begun to take this faith as their own and practice the teachings with sincerity. Local people started to come to the mission center to seek salvation. The Tenrikyo teachings are beginning to take root in this area."
On July 20, as a follow-up program to the introductory course, the "One-Day Spiritual Training Course" was held at the mission center, attended by 15 people including those who were new to the path. In this course, as well, local followers serve as instructors. In an effort to help participants get a feel for the teachings, the instructors explained in an easy-to-understand manner some of the core teachings such as why God created human beings and what it means for human beings to be brothers and sisters to one another.
In the meantime, some cultural activities are also expanding along with the nurturing programs at the mission center.
The Tenri Club, the center's cultural activities committee, offers Japanese language lessons as well as karate and judo lessons. It also promotes a group for people interested in gagaku (Japanese court music) and a fife and drum band. Some participants in the center's cultural activities have entered Tenrikyo Language Institute (TLI) in the Home of the Patent, and others have applied to Shuyoka, the three-month Spiritual Development Course offered by Church Headquarters. In this way, those activities have become good opportunities to sprinkle the fragrance of the teachings.
Rev. Shimizu commented: "We would like as many people as possible to get the feel for the path in this pre-anniversary season. We're going to increase our efforts to guide and nurture local followers with the motto 'smile, liveliness, and the spirit of salvation work.' We would also like to promote community-based activities in a step-by-step manner so that the teaching of the 'Joyous Life' will spread widely in the country."