Tenri University and Marburg University (Philipps University of Marburg) held an international symposium with the theme "Materiality in Religion and Culture" at Marburg University in Germany from September 17 to 19. Marburg University was founded in the 16th century as the world's first Protestant university and has been famous in the field of religious studies. The university currently has about 20,000 students on its campus located in the scenic town of Marburg. Tenri University's ties with this university go back to 1958 when the second Shinbashira presented his study at the ninth International Congress for the History of Religions held in Tokyo and became acquainted with a world-renowned scholar, Prof. Friedrich Heiler of Marburg University. Two years later, the second Shinbashira was invited by him to attend the tenth Congress held at Marburg University. Since then, the two universities have deepened their relationship through academic research, music, and sports.
In 1975, for example, a Tenrikyo exhibition took place at Marburg University's Central Library, which was attended by the third Shinbashira. The present Shinbashira later visited Marburg as well.
In 1996, the two universities concluded an academic exchange agreement. So far, a total of 32 Tenri University students have been dispatched as exchange students to Marburg University, and 25 students from Marburg University have visited the Home of the Parent to study at Terni University.
The first joint research project between the two universities was held in 2006 as a three-day symposium with the theme "Prayer as Interaction" at Marburg University. In 2010, the symposium next took place at Tenri University with the theme "Purification: Religious Transformations of Mind and Body." The symposium this time was, therefore, the third joint research project, which was attended by a total of 16 scholars—eight from each institution—including Dr. Martin Kraatz, former head of Marburg University's Museum of Religions, and Dr. Michael Pye, professor emeritus at Marburg University.
During the symposium, the participants made research presentations of their studies and held lively discussions on relationships between religion and material objects—such as works of art and architecture—from a variety of perspectives. Among the participants was Prof. Ulrike Wagner-Rau of Marburg University, who shed light on baptism with special reference to the use of water. She explained, "For Christians, water is not only a sacred tool used for baptism but also a constant reminder of their identity as Christians."
Prof. Edith Franke, one of the first-time participants, reviewed the symposium, saying: "Through exchanging thoughts and ideas with those who are from various fields of study and different cultures, we can discover something new. This is what I admire about this symposium as a significant academic exchange."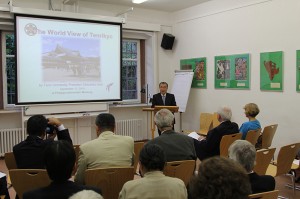 Prof. Yoshitsugu Sawai of Tenri University commented: "The second Shinbashira always hoped that Tenri University would become a central institute for religious studies in order for us to gain a deeper understanding of the teachings of Tenrikyo. We would like to contribute to the realization of his dream by continuing the exchanges with Marburg University—which have deepened over more than half a century—as well as this symposium into future generations."
On the first day of the symposium, Tenri University President Masahiko Iburi delivered a speech on the teachings of Tenrikyo and the Divine Model of Oyasama while showing slides. He also explained that Tenri University aims to promote three underlying themes based on the teachings: religious awareness, international awareness, and the spirit of selfless service. He said, "In order to foster students' global perspectives, we would like to actively promote collaborative relationships with universities in different countries."
On the 18th, President Iburi also visited the president of Marburg municipal assembly to hold talks on the establishment of a sister-city relationship, which is currently under consideration between the cities of Tenri and Marburg.