On April 26, the Monthly Service was conducted at the Main Sanctuary of Church Headquarters with the Shinbashira presiding as chief officiant.
Representing the congregation, the Shinbashira read the Service prayer, in which he first expressed gratitude for God's day-and-night protection and guidance provided out of the deep and warm parental heart. Referring to the Oyasama 130th Anniversary Yoboku Gatherings, which have been underway in many parts of the world since March, he said that all Yoboku and followers are determined to raise the momentum of salvation work through their participation in the gatherings and take further steps in a manner that is appropriate for this season so that they can bring joy to Oyasama. He then touched on Hinokishin Day, saying, "On that day, we children of the path will participate in the annual event and express in our actions the joy and gratitude we have for Your workings that keep us alive, thus responding to Your intention through making repayment for the daily blessings we receive."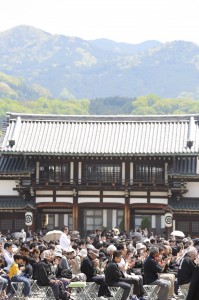 The Kagura Service and the Dance with Hand Movements were joyously performed with worshipers singing the Mikagura-uta in unison.
The sermon was delivered by Honbu-in Yuji Murata, who serves as bishop of the Mission Headquarters in Brazil. He started his sermon by reporting that the Yoboku Gatherings had all been finished in Brazil by mid-March, attracting a total of 2,493 people at 27 venues.
He then quoted passages from Instruction Three and said: "For the construction of the Joyous Life World, it is crucial for us ourselves to demonstrate how people can live while helping one another and purifying their minds. That is our mission as Yoboku." He continued: "In order to purify the mind, we are expected to practice joyous acceptance. In order to help one another, we are inevitably expected to engage in hinokishin activities."
Honbu-in Murata went on to explain the teaching of tanno, joyous acceptance, in depth. He stated: "The mind of joyous acceptance connects our lives and allows for a long life. It also helps form and strengthen interpersonal ties between husband and wife, parent and child, and brothers and sisters." After quoting from the Scriptures and The Doctrine of Tenrikyo, he stressed: "[J]oyous acceptance does not just end with repentance, nor is it a negative way of settling the mind. It is rather a positive and spirited act of faith that enables buds to sprout from knots. . . . I hope that we can purify our minds each day and live out the Joyous Life with joyful minds that allow us to find nothing but delight and happiness in whatever we see and hear."
He went on to talk about hinokishin, emphasizing the difference between hinokishin activities and volunteer work while referring to several Mikagura-uta verses and speaking about his personal experiences.
Rev. Murata, who has been serving in Brazil since the age of 24, also shared stories he had heard from Rev. Chujiro Otake, first bishop of the mission headquarters, and his wife about the trail-blazing days. During World War II, due to the breakup of diplomatic relations between Brazil and Japan, Bishop Otake was imprisoned as a religious leader from a hostile country. Honbu-in Murata described how Bishop Otake practiced joyous acceptance and hinokishin while in prison by willingly cleaning the restroom on a regular basis. He then said, "Let us followers of the path internalize and implement important teachings such as hinokishin and joyous acceptance, commit ourselves to helping others each day, and make efforts to transform the world in a way that can bring joy to Oyasama."
Honbu-in Murata concluded his sermon by encouraging all Yoboku and followers to participate in Hinokishin Day and give an extra boost to the pre-anniversary activities.