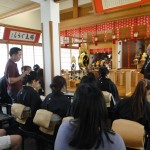 The Joyous Life Lecture, sponsored by Tenrikyo Overseas Department, was conducted with a total of 67 participants at three venues in Singapore and Malaysia on February 15 and 16.
The lecture was first promoted by the then Yoboku Association in 1971 to share a faith-based way of living with those who have yet to know the path. It began to take place overseas in the mid-1970s. Last year, the lecture was held at 29 locations in 11 countries, drawing a total of 1,180 people.
As one of the venues, Tenrikyo Mission Center in Singapore has been trying to boost the number of participants by, for instance, inviting Chinese-speaking lecturers instead of English speakers from 2011 in response to the recent increase in the number of participants of Chinese descent. This year's lecture in Singapore attracted 40 participants. The lecturer was Rev. Mitsuhiko Tamamura, head minister of Tatemitsu Church in Taiwan, who explained some of the teachings in an easy-to-understand way.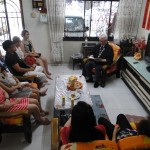 The lecture was held for the third time in Malaysia, drawing a total of 27 people to the Johor Bahru venue and the Batu Pahat venue. Rev. Tamamura said: "One participant told me that she had found out about Tenrikyo on the Internet and came to the lecture. It is my feeling that the path is spreading in Asia."