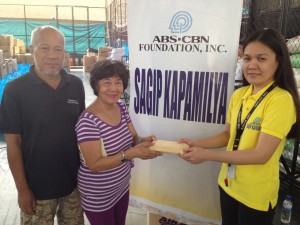 The Overseas Department's International Network for Mutual Help made a monetary donation to aid victims of Typhoon Haiyan, which struck the central Philippines on November 8. On the 20th, the network donated 3 million yen through Tenrikyo Mission Center in the Philippines to a local foundation affiliated with the ABS-CBN, the biggest media conglomerate in the Philippines, which is engaging in relief activities in the devastated area.
The typhoon, perhaps the strongest storm ever to make landfall, brought winds as powerful as a tornado as well as storm surges, causing catastrophic damage to the island of Leyte and other places in the Philippines.
According to the Philippines' National Disaster Risk Reduction and Management Council, more than 26,000 people sustained injuries resulting from the typhoon and, as of December 6, the death toll exceeded 5,700 with 1,779 still missing.
The International Network for Mutual Help is continuously collecting contributions for its fund to aid relief efforts in various parts of the world. For more information about making relief donations, please contact the Overseas Department's International Network for Mutual Help at tnet@tenrikyo.or.jp.