As it is almost the end of the year, this article briefly touches on some of the various events of the past year, including pre-anniversary activities leading up to the 130th Anniversary of Oyasama.
All directly supervised churches received "Visits by Church Headquarters Officials"—which had begun in November last year—and subsequently conducted their own visits to all churches of their affiliation until this May. In January, "Oyasama 130th Anniversary Song" was released.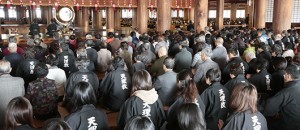 In June, the first group of head ministers attended the Monthly Service within the boundary bars. The same month saw the start of the noon service performance at the Main Sanctuary on Sundays, public holidays, and the 25th of each month, except on days of Church Headquarters' events.
In April, Daisuke Nakata—the eldest son of Honbu-in Zensuke Nakata—was adopted by the Shinbashira and his wife, Mrs. Harue Nakayama. On October 24, he was unanimously named the successor-designate to the Shinbashira at a meeting of Honbu-in (Church Headquarters executive officials).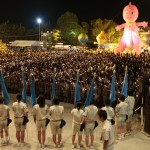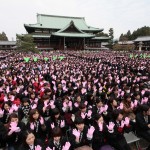 This year, the Shinbashira visited South Korea, Hawaii, and Brazil. He attended the installation services, respectively, for the new bishops of the Mission Headquarters in South Korea in March and the Mission Headquarters of Hawaii in June. In July, he and his son, Daisuke, visited Brazil to attend the 60th anniversary convention of the Brazil Chapter of Tenrikyo Young Men's Association, in addtion to paying a visit to four churches in the country.
This year's Children's Pilgrimage to Jiba, held between July 26 and August 4, marked the 60th anniversary of the event, which was first held as "Children's Hinokishin Pilgrimage to Jiba" in 1954. In November, the 27th Young Women's Convention was held in the Inner Courtyard of Church Headquarters. After listening to the Shibashira's address, all the convention participants performed a hand dance to the song "Itsumo Egao de" (Always with a smile).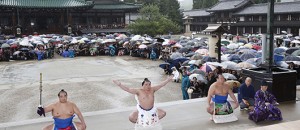 There were also educational, cultural, and sports events. From April 18 to June 22, the School of Oriental and African Studies at the University of London held an exhibition called "1,000 Years of the Art of Japanese Books: Treasures from Tenri Central Library" at Brunei Gallery located in the center of London. In May, "O-uta Concert" was held at the Symphony Hall in Osaka City. In June, Sumo Grand Champion Harumafuji gave a ceremonial performance in front of the North Worship Hall of the Main Sanctuary.
This year, a number of natural disasters occurred both within and oustide the country. From September to November, for instance, a series of typhoons passed through the Japanese archipelago and caused extensive damage to various places around the country. Tenrikyo Disaster Relief Hinokishin Corps assisted with recovery efforts in these disaster areas.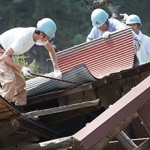 In early November, an extremely powerful typhoon, named Typhoon Haiyan, hit the Philippines. Tenrikyo International Net for Mutual Help contributed three million yen (about US$30,000) to a local disaster relief fund.