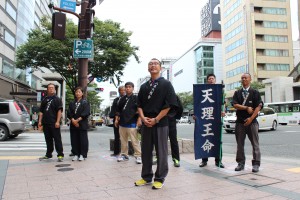 The South Korea Chapter of Tenrikyo Young Men's Association organized a mission caravan in Fukuoka, Japan, from August 21 through 24. It was the third mission caravan held by the chapter; however, this was the first time that its caravan went outside of South Korea. A total of 15 participants, including four women, devoted themselves to missionary work in the extreme heat of the Japanese summer.
On August 21, the group left Busan, South Korea, by high-speed ship. Noh Ki Hyon, Chairman of the South Korea Chapter of the Young Men's Association, said: "Responding to the Young Men's Association Headquarters' slogan 'Let's build momentum for salvation,' we organized this mission caravan so that we could further promote the missionary activities of the South Korea Chapter. We encouraged and inspired one another to prepare for missionary work in Japan."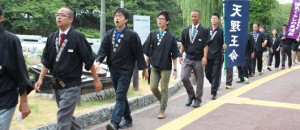 During the caravan, followers in Fukuoka—including people from Saichin Branch Church and missionaries living at the Fukuoka Missionary House—helped and encouraged the members by joining them in sprinkling the fragrance of the teachings. Together, the participants carried out activities, such as spreading the name of God, giving roadside speeches, and doing door-to-door missionary work.
Lim Te Young, a member of the mission caravan, had completed his one-year program at the Osaka Missionary House last April. When he went back to South Korea, he was determined to continue engaging in missionary work every day. As time passed, however, he started to spend less and less time on missionary work. "The biggest obstacle is my own weakness," he said. Resolved to reaffirm his determination and devote his utmost efforts to missionary and salvation work again, Lim decided to participate in this mission caravan.
Lee Chang Hoon, another member, had been diagnosed with a brain tumor that was pressing on the nerves of his neck and needed to undergo emergency surgery to remove it. Despite his condition, Lee did not worry very much because he believed that Oyasama would surely save him. The surgery was successful. Moreover, he could be discharged from the hospital within only six weeks although his doctor had first told him that he would have to stay in the hospital for two years. "Having received this miraculous blessing, I pledged to devote myself single-heartedly to the path," Lee said.
During the mission caravan, Lee met an elderly woman. He greeted this woman in Japanese, "I'm from South Korea and a member of Tenrikyo Young Men's Association"—a phrase which he had recently learned to say. The woman then answered politely: "You're from South Korea. Thank you for coming all the way here." Lee later said: "Although I can't speak Japanese very well, I can still sprinkle the fragrance of the path by using gestures. And that makes me very happy."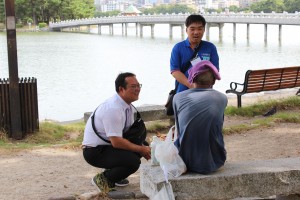 On the 24th, the members of the missionary caravan returned to South Korea with a sense of accomplishment. Chairman Noh enthusiastically said: "We were encouraged by the four days we spent engaging in missionary work in Japan. Taking this experience to heart, we will further strive to build momentum for salvation throughout our country."