The July Monthly Service of Church Headquarters was performed on July 26 at the Main Sanctuary, with the Shinbashira presiding as the chief officiant. Preparations had been completed for the Children's Pilgrimage to Jiba, which was scheduled to begin in the afternoon, and pilgrimage groups bearing flags and wearing matching T-shirts were visible throughout the Sanctuary precincts, giving a festive atmosphere to the Home of the Parent.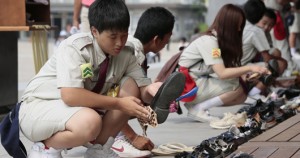 In the Service prayer, the Shinbashira touched upon this year's Children's Pilgrimage, saying: "Large numbers of children will be returning to Jiba, the Home of the Parent, not only from across this country but also from overseas. Under the theme 'Filled with joy! Hinokishin!' they will attend and participate in a variety of attractions and activities and come into touch with the teachings while developing their sense of joy and gratitude together. Please watch over these boys and girls with boundless parental love and guide us in ensuring that everything proceeds smoothly throughout the duration of the pilgrimage and that the children bask in Your blessings so that they may grow into vibrant young people with an enriched heart."
The Kagura Service and the Dance with Hand Movements were then performed joyously while the followers joined in singing the songs for the Service in unison.
After the Service, Honbu-in Michihito Hamada took the lectern to deliver the sermon. He started the sermon by saying: "God teaches us that we are able to live the Joyous Life by using both our mind and body. Unless we use our mind and body skillfully, it will be very difficult to live the Joyous Life." He said that in order to maintain a mind of joy, which is indispensable for the Joyous Life, it is important to have gratitude in our daily life as well as to feel a sense of appreciation for the body that we are borrowing from God the Parent.
He shared some of the experiences he had while serving as the bishop of the Mission Headquarters of Hawaii. In response to the announcement of observing the 130th Anniversary of Oyasama, some Tenrikyo followers in Hawaii made a resolution to spread the name of God in Waikiki once a week out of their desire to make repayment for God's boundless blessings. After quoting the verse "As I hasten to save all of you equally, I will set out to cheer up all the minds of the world" (Mikagura-uta, Yorozuyo:8), he said, "I believe that our act of going out to spread the name of God on the street is equivalent to God the Parent proactively reaching out and speaking to the world's people through us, whom God has brought to the fore."
He went on to say that when the name of God, Tenri-O-no-Mikoto, successfully reaches the ears of those who ask for blessings of salvation, then that would induce something positive to happen in their lives. He then said: "When we sprinkle the fragrance of the teachings in all parts of Japan and various places in the world by singing the name of God, Tenri-O-no-Mikoto, how lively and full of energy the world will become! When the sounds of the wooden clappers and the singing of the name of God resonate in various cities and communities, imagine how happy and spirited God the Parent and Oyasama will be!"
Honbu-in Hamada closed his sermon by saying: "Let us followers of the path unite our minds as one, sprinkle the fragrance and help save others with courage and joy, and spread the name of the true Parent of all human beings, Tenri-O-no-Mikoto, in a resounding voice, thereby taking powerful strides toward achieving the Joyous Life World."