Tenrikyo Women's Association held its 95th annual convention in the Inner Courtyard of Church Headquarters on April 19, the day after the Oyasama Birth Celebration Service. The occasion drew 42,000 members.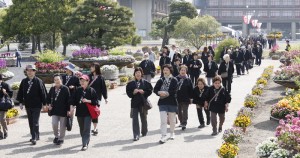 When the registration desks opened at 8:00 a.m., groups of members began to file in the Sanctuary precincts one after another, carrying banners of their chapters. At 9:30, Women's Association President Harue Nakayama escorted the Shinbashira and other guests into the Inner Courtyard. The ceremony began with the singing of the Eight Verses of the Yorozuyo, followed by a pledge by a representative of new members and a progress report presented by committee member Emiko Moroi.
President Nakayama then delivered her address. She began by referring to the association's new activity guidelines—"Let all of us Women's Association members follow the path of making repayment for the blessings we receive. (1) Let's implement the teachings and grow spiritually to be true Yoboku. (2) Let's nurture those close to us into true Yoboku." After quoting from the Shinbashira's address at the previous convention, she stressed the importance of living each day as Yoboku and said, "There are clear differences between men and women, and the abilities and roles women are endowed with are certainly different from those of men; however, there is absolutely no difference between men and women concerning the tasks befitting Yoboku."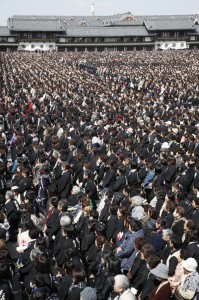 President Nakayama said, "I sense that we, who live in material abundance, may have a weaker determination to make repayment for God's constant blessings." She then asked the members to increase the number of Yoboku through sprinkling the fragrance of the teachings and engaging in salvation work, which are the best ways to make repayment for God's blessings. She continued: "The primary tasks that we women of the path should carry out are to nurture our own children in such a way that they will grow up to become true Yoboku as well as nurture people close to us into true Yoboku. In order to do so, we must make a constant effort to grow spiritually and become true Yoboku ourselves. I would like to ask the association members to perform the important task of nurturing people with loving care and make it the core of our pre-anniversary activities. "
Next, the Shinbashira took the lectern. Referring to a series of Divine Directions concerning the establishment of the Women's Association, he said: "One important question is whether or not you are studying the path of Oyasama's Divine Model and implementing it each day or whether or not you are neglecting to study the teachings. Another question is whether or not you are making sufficient efforts to discuss things together and teach one another. From time to time, it is vital, I think, for you to ask yourselves these questions and check and correct the orientation of your minds and the way you are conducting your activities."
The Shinbashira also said that the association's current activity guidelines are "designed to make clear what it means for the Women's Association to conduct its anniversary-related activities so that it will be able to promote the association activities in unity of mind ever more enthusiastically." He then went on to explain the significance of passing down the joy of faith from generation to generation.
Before concluding his address, the Shinbashira emphasized, "If we wish people to grow into true Yoboku, those of us who are in a position to nurture others need to fine-tune our own spirit of single-heartedness with God and to near Oyasama's parental love that is solely intent on single-hearted salvation." He said that the Women's Association's goal of being "true Yoboku" refers to "striving to become the sort of Yoboku . . . whose mind is always focused on helping save others." He thus encouraged the members to proactively work to sprinkle the fragrance of the teachings and help save others so that, by setting an example through those efforts, they might nurture those close to them into true Yoboku.
After the Shinbashira's address, Niigata Chapter Chairwoman Haruno Ike delivered a pledge on behalf of all members. The members then sang "Tenrikyo Women's Association Song" and "Oyasama 130th Anniversary Song."