On April 14, the International Network for Mutual Help, based in the Overseas Department, held its 17th annual charity bazaar on the department's premises, drawing more than 800 people. The network, besides conducting such fundraising activities, collects and provides information on international aid in cooperation with the department's overseas mission facilities and various Tenrikyo groups involved with international relief efforts.
The network had appealed for donations of bazaar items through posters. Over 8,000 items were collected ranging from household items and articles of clothing to furniture and electrical appliances.
In splendid spring weather, visitors began to line up two hours before the opening time. As soon as the venue's doors were opened at 11:00 a.m., the items began selling like hotcakes. There were also several food stands for the visitors and a game corner for little children in the outdoor space.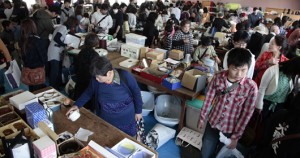 Minori Samura had been asked to serve as an announcer for the bazaar by her friend who works at the Overseas Department. She said: "I'm glad to make use of my experience as an announcer for this event. I'll work hard!"
Ryoko Tanno, a visitor from Osaka, brought four non-followers as well as nine members of the Women's Association to the bazaar. She is the wife of a church head minister and took this event as an opportunity for sprinkling the fragrance of the teachings. She said: "Last year, the day we were scheduled to conduct some church activities coincided with the day for the bazaar. We, therefore, arranged to visit the bazaar while making a pilgrimage to Jiba, and people really enjoyed it. So I decided to come back this year too. I will continue to visit and bring people to this event."
The proceeds from the bazaar, amounting to a total of 446,300 yen, were added to the network's funds and will be used for future international support activities.