The College Division of the Students Training Course was held at the Home of the Parent from March 3 through 9. This year, 575 university, junior college, and technical school students (330 males and 245 females)—100 more than last year—assembled from all over the county to share in the joy of faith. Among them, a record number of 406 students took the course for the first time. Under the theme "Inquire into the origin and pioneer the way for tomorrow," the participants spent a week seeking the path and nurturing the mind of mutual help through various activities—such as lectures, the practice of the dance and musical instruments for the service, hinokishin, and group discussions.
In addition, March 7 was set aside as a day to sprinkle the fragrance of the teachings. This story covers some participants' experiences on that day.
Masayo Hashigami, a third year college student, went to Nara to sprinkle the fragrance of the teachings. In her elementary school days, Masayo had some sort of inferiority complex about her mother, who was much older than her friends' mothers. She once told her mother: "Please don't come to parents' day at school because it's too embarrassing. Why didn't you give birth to me when you were younger?" After entering junior high school, however, Masayo heard about her mother's sad experiences from the wife of their church's head minister. Her mother had had three miscarriages before Masayo was born. While she was pregnant with Masayo, her mother devoted herself to engaging in hinokishin and sprinkling the fragrance of the teachings as well as visiting the church to worship. People at the church also conducted prayer services. Having heard all this, Masayo realized that it is due to God's blessings and her mother's dedication that she is where she is today. Since then, she has come to perform the service with a sense of gratitude.
On March 7, Masayo was handing out leaflets in Nara City. A woman passing by told her: "I'm grateful that young people like you are engaging in missionary work. Thank you." The woman was a follower and encouraged Masayo with the warm words. Masayo later said, "I will try to keep my mind humble and focused on saving others."
Taiki Izumi, a freshman, was born as the second son of a church head minister. He decided to participate in the course in order to take a step in spiritual growth during the lead-up to the 130th Anniversary of Oyasama. The day before the course began, his father said to him, "I want you to learn that nothing should be taken for granted." The message remained in Taiki's heart.
On the evening of March 6, Taiki was in bed with a fever. He thought that he would not be able to join in sprinkling the fragrance of the teachings the next day. Then, a member of his group administered the Sazuke to him. The following morning, his fever was down. Taiki recalled his father's message and felt grateful that God had given him an opportunity to appreciate something he had taken for granted.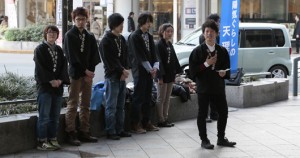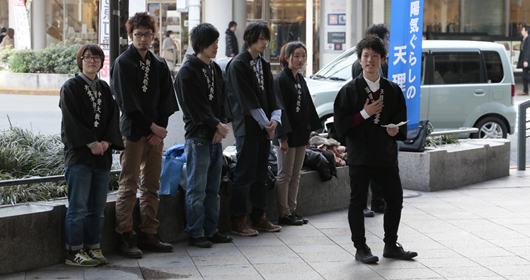 Delivering a roadside speech in the hustle and bustle of Osaka City on March 7, Taiki said loudly, "Things that we take for granted are actually blessings!" After the speech, he handed out leaflets and met a foreigner who was suffering from chronic headaches. Taiki used gestures to explain the teachings to the man. Receiving his permission to pray to God on his behalf, Taiki single-heartedly administered the Sazuke to him. Taiki later said: "I believe that getting the fever and meeting that man were both intended by God. Sharing with friends the feeling of gratitude for things that we tend to take for granted, I intend to proactively engage in the activities during the lead-up to the 130th Anniversary of Oyasama."
Kiyoshiro Sugita, a second year college student, engaged in door-to-door missionary work in residential areas in Nara City on that day. He visited people's homes and said: "Hello, I'm from Tenrikyo and would like to share the teachings of God with you. May I have a moment of your time?"
On the previous day, Kiyoshiro's group had set a goal for their missionary work: "Let's walk joyfully and spiritedly so as to bring joy to Oyasama." Therefore, he continued walking even if people did not listen to him. Kiyoshiro learned that the early followers cultivated and nurtured their faith while going through difficult circumstances. He realized that it is important to put the teachings into practice consistently and strive to grow spiritually step by step in order to be a follower who can naturally sprinkle the fragrance of the teachings.
Around 2:00 p.m., Kiyoshiro's group sang the Eight Verses of the Yorozuyo in a downtown area. After that, a woman ran up to him, saying: "I have faith in the path, too. Keep up the good work!" He was overjoyed to hear that. Kiyoshiro later said, "Making use of what I learned and experienced through this missionary work, I want to continue working together with friends of the path to polish my faith."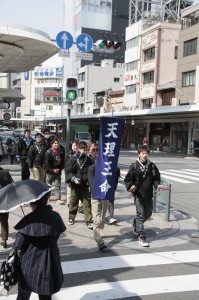 Chihiro Doke, a third year college student, has yet to receive the truth of the Sazuke. On the previous day of the missionary work, therefore, she asked her group counselor if there was anything she could do without the Sazuke. The counselor gently said, "You can pray for a solution through performing a service even if you cannot yet administer the Sazuke."
When Chihiro was handing out leaflets on the following day, an elderly man suddenly said to her: "Ogaki City is in Gifu Prefecture, isn't it? I have been there." The man actually saw the name of Chihiro's grand church, "Ogaki Grand Church," on her happi coat. Talking with him, Chihiro learned that he had suffered from stomach trouble and had surgery many times. She gathered her courage to say, "If you don't mind, I would like to pray to God so that you will get better." The man then answered, "I'd appreciate that." She was glad to know that there are things she could do and decided to conduct a prayer service for him after returning to Jiba. Chihiro later said: "I would like to receive the truth of the Sazuke as soon as possible and administer the Sazuke to people suffering from illness. As an instrument of Oyasama, I am determined to make progress in my spiritual growth step by step."
On March 9, the last day of the course, the participants attended the closing ceremony. They received certificates of completion and pledged to one another to meet again in Jiba, the Home of the Parent.