In commemoration of the 100th anniversary of the Women's Association, the "Commemorative Exhibition: Toward Tomorrow, Toward the Future" has been underway on the third floor of the Oyasato-yakata's South Right Wing 2. Coinciding with the second Besseki Month organized by the association, the exhibition is to last until May 10. Prior to the opening on March 20, the Shinbashira and the former Shinbashira toured the exhibition on March 17, accompanied by Women's Association President Harue Nakayama.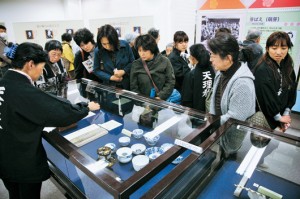 The exhibition, which is held in four exhibition rooms and a video theater, is designed to help the Women's Association members—who consider themselves to be the foundation of the path—hand down the joy of faith to the next generation. Also, it allows visitors to get a feel for the association's past, present, and future by shedding light on early association members' endeavors and current members' ongoing efforts during the present season.
The exhibition starts with panels focusing on the journeys of the successive presidents of the association. The chronology of the association and relevant photos are then shown on the next panels, which are categorized into 11 sections according to stages the association went through, enabling visitors to trace the association's 100-year history in the context of major occurrences in the Tenrikyo community as well as in the world at large. A panel describing the pre-birth period of the association presents a story that women serving at the Residence began to hold meetings on the 3rd, 13th, and 23rd of each month based on their understanding that three was a meaningful number as indicated by verse three of Song Two of the Mikagura-uta, The Songs for the Service, which reads, "Third, [n]ourishment will be put on you."
Various association activities and contributions are also featured on some panels, one of which explains the fact that the original buildings of Tenri Kindergarten and Tenri Day Care Center were designed and constructed solely by women.
At the same time, dozens of important materials stored in Tenrikyo Women's Association Archive are on display for the first time. Among them is a donation box used during the pre-birth period of the association when women were holding meetings at the Shinbashira's residence. Another item is tanzaku paper on which the first Shinbashira, Shinnosuke Nakayama, wrote a poem about the spirit of the foundation of the path immediately after the association's founding in 1910.
Shown in the video theater is a film, made under the theme "Toward Tomorrow, Toward the Future," which portrays four association members who regard faith as their spiritual basis for their daily life. The film is available in several languages for overseas followers, as are the handouts explaining the exhibits.
The exhibition also showcases some paintings, which were used for the covers of the Michi no Dai magazine, as well as newsletters published by young women's groups belonging to directly supervised chapters, diocese chapters, and overseas chapters.
Some visitors noted how strongly they felt the weighty 100-year history highlighted in the exhibition, and some commented that the exhibition brought back old memories. Another visitor said that her fellow members featured in the film gave her strength. "This exhibition can be a great opportunity to help association members who are fairly new to Tenrikyo feel ever closer to our activities," says a Women's Association official, adding, "We would like to encourage our members to bring as many people as possible to this exhibition as well as to the Besseki lecture."