On September 28, a reception commemorating the 50th anniversary of Los Angeles Tenri Judo Dojo was held at Tenrikyo Mission Headquarters in America. About 100 people attended the event. Guests included Honbu-in Yoshihiko Yasuno, vice president of Tenri Judo Association, and Takamasa Anai, who competed in the 100 kg weight class at the London Olympics as a member of Japan's national judo team.
Los Angeles Tenri Judo Dojo was founded in 1962 on the premises of the Mission Headquarters in America when second Shinbashira Shozen Nakayama declared his desire to build international goodwill through judo.
The first practice space of Los Angeles Tenri Judo Dojo was a garage barely wide enough to park two cars. The first practices were done on mats laid on the concrete garage floor.
Tenri Judo Association dispatched instructors over the years and in 1969 a new 150-square-meter (1,600-square-ft.) judo dojo was built next to the Mission Headquarters in America.
Over 3,000 students have trained at the dojo until today, including Olympic team members and U.S. champions. In the meantime, another Tenri Judo Dojo was established in New York, and former pupils have gone on to establish dojos all over North America.
Rev. Yasuno gave an address at the 50th anniversary reception, speaking about the second Shinbashira's desire behind the dojo's founding and its history. He then expressed appreciation to various parties from both within and outside the Tenrikyo congregation for their efforts dedicated to the dojo over the last 50 years.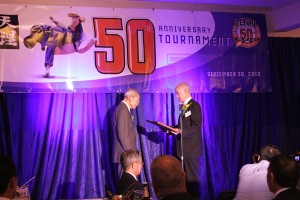 This was followed by the presentation of a certificate of congratulations from the Los Angeles City Council. Also at the reception, Tenri Judo Association recognized the contributions of Rev. Keigo Morishita, who has been with the dojo since its inception and has helped spread Tenri Judo in the United States. Rev. Morishita said: "We are all brothers and sisters connected by Tenri Judo. I'd like to make further efforts to deepen these relationships to help make the 50th anniversary meaningful."
On September 29, Takamasa Anai gave two judo clinics at John Glenn High School in Norwalk. A total of 155 judoka participated in the senior and junior division clinics.
A 50th anniversary tournament was then held on September 30. A total of 388 judoka of all ranks participated, with ages ranging from 5 to 61.
As the special event of the tournament, Takamasa Anai went up against a "10-man slaughter line." Challengers included Los Angeles Tenri Judo Dojo instructor Tokuzo Takahashi, this year's U.S. open-weight division champion and other leading U.S. judoka. Anai demonstrated seven different winning techniques against his 10 opponents, all won with an ippon, which brought a roar of wild applause from spectators.