Two followers residing in London took part in volunteer activities at the Olympic Games hosted in the capital between July 27 and August 12. There were also special activities organized by local followers as hinokishin and nioigake (sprinkling of the fragrance of the teachings).
Ms. Shinobu Patterson, 54—wife of London Sakurai Mission Station Head Mr. Simon Patterson, 53—served as an interpreter for athletes competing in indoor sports such as table tennis, judo, wrestling, fencing, and boxing at Exhibition Centre London.
Ms. Patterson originally moved to England to study English and has been married for 28 years to her husband, whom she met during her studies. She had experience of volunteer interpreting at various events before applying for the position at the Olympics. "I had been interested in volunteering there ever since London was announced as the host," she said. After a successful examination and interview, she was appointed as part of the Language Service Team in February.
The Language Service Team mainly provided interpretation at post-match interviews with news anchors, medalists' doping tests, and instructions prior to medal presentation ceremonies. Ms. Patterson interpreted for a large number of Japanese medalists, such as the table tennis players Ai Fukuhara and Kasumi Ishikawa, the wrestler Saori Yoshida, and the judoka Masashi Ebinuma, during their interviews.
Ebinuma, an eventual bronze medalist, won the quarterfinal of the men's 66kg category due to the reversal of the referees' decision. He said after the match that he "was feeling a bit bad" for his opponent. Ms. Patterson recalled that she then "realized how difficult it was to translate what athletes exactly meant to say."
When the bantamweight boxer Satoshi Shimizu lost the second round due to an unusual decision, Ms. Patterson translated the written protest from the Japanese corner at the request of Japan Amateur Boxing Federation. The protest was accepted three and a half hours after it was submitted. Shimizu thus advanced to the quarterfinal and finished with the bronze medal.
Ms. Patterson said: "In the past I had had chances to use my skills in various hinokishin activities involving interpretation. I think this is why I was blessed with such a wonderful opportunity to work at the Olympics. I'm grateful that I managed to carry out my job in good spirits without any troubles."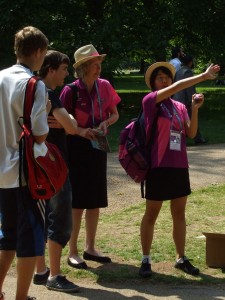 Michie Takeuchi, 19, a Yoboku of Kyokushi London Mission station and student at a university in London, was one of "London Ambassadors" in Hyde Park, which hosted the triathlon events and provided public viewing areas.
When asked why she volunteered for the position, Ms. Takeuchi said: "Being able to host the Olympics in my own country is a once-in-a-lifetime opportunity. I love London, and I wanted to share with the world all the great things London has to offer!" She passed her interview last summer and was selected for the position in November. She then attended three training sessions before the Games opened, one each in January, March, and June this year.
The role of the London Ambassadors was to act as "walking information centers." In Hyde Park, one of the noted places in the capital, they welcomed visitors with smiles, showed them around at the Games venues, and gave out maps and pamphlets about the events.
"Greeting a stranger and receiving a greeting back may be something that happens normally in Jiba, but it was a lot of fun being able to share a smile or hello with lots of passers-by," Ms. Takeuchi said. "Even a small act such as a greeting can be meaningful hinokishin. I was able to truly feel this through volunteering. That is why I hope never to forget this. I am determined to carry it on in my community and at university and will try to greet those around me with a friendly 'hello.'"
Around Hyde Park, young followers—mostly members of the Boys and Girls Association—carried out a special activity to sprinkle the fragrance of the teachings. Wearing T-shirts with the logo "One World, One Family", and holding world maps, they asked visitors at the park to mark their countries of origin on the maps.
The purpose of this activity was to convey the essence of the teaching that all human beings are brothers and sisters. Those visitors who marked the maps were given a souvenir—stickers with the address of Tenrikyo International Website and the same message as the one printed on the followers' T-shirts.
Some followers engaged in clean-up hinokishin and performed kamina nagashi (the spreading of the divine name) around the Games venues.
All of these activities were planned by Kyokushi London Mission Station Head Mr. Nobuyuki Takeuchi, 54. "Children were happy to join in, not least because Hyde Park is where we observe the Tenrikyo Hinokishin Day every year," he said. "The Olympics are a golden opportunity for us to convey the message of the Joyous Life to people gathering from around the world. I hope we will be able to pass on the baton to followers in Brazil when the next Games are held in Rio de Janeiro."