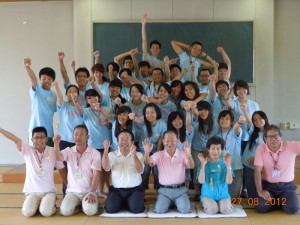 The Students Association of Taiwan held its 10th annual Students' Pilgrimage to Jiba between August 16 and 28. A total of 25 students participated this year.
Looking back on the beginning of the Students' Pilgrimage to Jiba activity, Minoru Higashihara from the Student Advisory Committee of Taiwan remarked: "Unlike members of the Boys and Girls Association who have the Children's Pilgrimage to Jiba, high school and college students rarely have the opportunity to return to Jiba. This was why we established the Students Association of Taiwan and planned this Students' Pilgrimage to Jiba." Students from non-Tenrikyo families started to participate in increasing numbers through word of mouth. There were 16 first-time participants this year.
For Taiwan students, September is the beginning of a new school term. August, the month when the Students' Pilgrimage to Jiba is held, is when students either prepare for enrollment into a new school or their new jobs.
One participant, Sun Hui-zhen, just graduated from a police academy this summer. He will begin working as a naval police officer in September. He said: "I decided to participate when my cousin told me that this activity provided a very enjoyable learning experience. Although I still don't know much about Tenrikyo, I wish to study more about it now that I am going to be a full-fledged member of society."
Participants assembled at the Mission Headquarters in Taiwan located in Taipei on the 15th. The group arrived in Jiba and paid their respects at the Main Sanctuary on the evening of the 16th and attended Tenrikyo Basics Course on the 17th. On the 18th, participants 17 years old and older attended the Besseki lecture. Among the 19 who attended the Besseki, 16 were taking the lecture for the first time.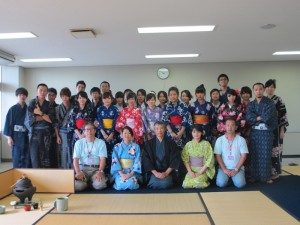 In addition to attending the August Monthly Service, students engaged in corridor-cleaning hinokishin, crossed the Jusan Pass, and participated in activities such as exchanges with the Students Association of Church Headquarters and Chiba Diocese and were given lessons in Japanese culture at Tenri Kyoko Gakuen High School.
Students Association of Taiwan chairperson Zhai Chen-you said: "When I first participated in this activity, I did so merely out of curiosity, seeing it as an opportunity to do some sightseeing. But as I participated in it again and again, I found that coming into contact with the warmth of the Parent provided opportunities for my mind to be cleansed. My wish is to do as much as possible to convey how splendid the teachings I've learned are to first-time participants."