From July 18 to 24, Tenrikyo Young Men's Association organized its 8th International Hinokishin Corps, in which 143 people participated from 10 countries and regions, namely, Argentina, Australia, Brazil, France, Hawaii, Mexico, Nepal, South Korea, Taiwan, and the U.S. mainland. Organized every three years as a special version of the regular corps of the Oyasato Construction Young Men's Association Hinokishin Corps, the International Hinokishin Corps is designed to provide overseas association members with an opportunity to sow seeds of sincerity at Jiba and interact with their fellow members from various parts of the world.
On the 18th, participants checked in at their dorm with large suitcases. With smiles on their faces, many of them exchanged hugs with one another while rejoicing in their reunion.
At the opening ceremony, the Shinbashira, who also serves as the president of the association, addressed the participants. He began by referring to how the corps had started and said: "I believe the regular corps and the International Hinokishin Corps share the same spirit. . . . Both of them have continued and will continue with the determination to keep serving until the Oyasato-yakata building-complex is completed." He went on to say: "The teaching of hinokishin is a fundamental part of our faith. As you devote yourselves to hinokishin, I want you to seek God the Parent's intention at a deep level and make efforts to settle it in your mind."
The Shinbashira then quoted an Ofudesaki verse, "Whenever you return, never think that it is caused by your individual minds" (XI: 78), to remind the participants of the fact that God's intention enabled them to return to Jiba. He went on to ask them to spend their days properly so that they could live up to the parental heart that had drawn them to Jiba. "Regardless of the differences in your nationalities or cultures," he said, "all of you are association members." He closed his address by encouraging the listeners to make their experience meaningful in unity of mind while conducting themselves throughout the duration of the corps in a way that could be accepted by God the Parent.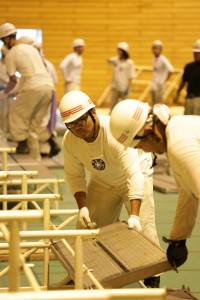 Divided into groups, the participants started their hinokishin activities from the next day at various parts of Oyasato, the Home of the Parent. One of the sites was Tenri University Gymnasium 1, where a group of 23 members from America, Argentina, Australia, and Mexico set up bleachers and other things in preparation for the Children's Pilgrimage to Jiba.
Among the corps members was Fernando Pablo Masiuk, 30, from Argentina. In June, he completed Shuyoka, the three-month Spiritual Development Course held in Jiba. "After I came to the path, I learned the mind of mutual help," he said, adding, "As I feel happy when someone else does something for me, I want to make someone else happy by doing hinokishin."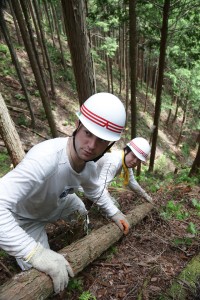 On the 20th, 44 people in the Brazilian group went into Mount Jatani, which is owned by Church Headquarters, to help transport felled timber. The members had to be careful on the steep hills because the ground was muddy from the rain on the previous day. They carried down cypress and cedar trees—some of which were as long as 10 meters (33 ft.)—while calling out to one another, "Um, dois, três!"
Among them was a 25-year-old participant, Douglas Alves dos Reis, who returned to Jiba for the first time and started attending the Besseki lectures. He said: "I decided to come here because I wanted to thank God for the blessing that had enabled me to recover from an intestinal disease. Nothing feels more precious than being able to put into practice what I heard in the Besseki lecture."
After the daytime hinokishin activities, the participants attended the evening service at the Main Sanctuary. They also had practice sessions for the dance and the musical instruments for the service.
Ronald Malbosc, 32, was a French participant who goes to Tenrikyo Europe Centre every weekend and engages in such hinokishin activities as translation work. He said in a bright tone: "Even if we speak different languages, all of us here can unite our minds for the same goal. This is not something we can experience in everyday life. My friend who invited me to come along was right in saying, 'It's going to be a good experience.'"
A Brazilian participant, Leandro Tomoiti Otake, 27, is a Tenri Junior Seminary graduate and former live-in trainee at his grand church. He said: "In Brazil, when I feel like my heart is about to sink, I always get myself spirited again by remembering those days I spent doing hinokishin while in the seminary and saying to myself, 'Come on, hang in there.' This time, doing hinokishin right by Oyasama's side has given me an indescribable warm feeling. The days I have spent sowing seeds of sincerity here at Jiba will become a new source of energy for me."
On the last day, the closing ceremony was held in the Foundress' Hall 3, where the Shinbashira delivered an address in which he expressed his appreciation for the work the participants had done and encouraged them to continue to engage in hinokishin in their daily life.