The 852nd session of Shuyoka (the three-month Spiritual Development Course in Jiba) was held between April 1 and June 27. The 852nd session included classes in Chinese, English, and Spanish. The Thai language class began on May 1 as part of the 853rd session of Shuyoka, which will conclude on July 27.
A day in Shuyoka begins with the morning service at the Main Sanctuary. After completing a morning training session and breakfast, students commute to Shuyoka. In the morning, there are classes on The Doctrine of Tenrikyo, The Life of Oyasama, and the Mikagura-uta, The Songs for the Service, as well as service dance practices. In the afternoon are lessons in the musical instruments of the service and hinokishin activities. Once students return to their respective followers dormitories, they engage in hinokishin, attend the evening service, and have another training session. The daily schedule for all students enrolled in Shuyoka basically follows this pattern.
Yet those who return from overseas to attend Shuyoka are often confounded by cultural and lifestyle differences. The language barrier particularly loomed large for many of them.
"I felt frustrated that I couldn't communicate when I had something to say." Such was the sentiment of Wang Yi-Hsiu. Born in Taiwan and raised by devout parents, Ms. Wang experienced the knot of her father, a mission station head, suddenly passing away for rebirth a year and a half ago.
"My father was so devout…. Why?" While she was unable to find closure, Ms. Wang's church head minister encouraged her to enroll in Shuyoka.
"The language barrier made things difficult at first, but the kindness of everyone I met in Jiba allowed me to enjoy each day I spent here. I gradually began to see my father's passing as God the Parent's way of giving me the opportunity to mature spiritually."
Drawn by God the Parent
A personal illness or a family problem often served as a catalyst for more than a few people to return to Jiba.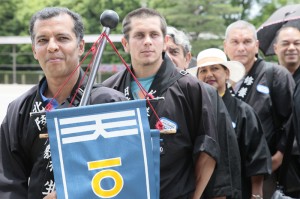 Gavis Doralia Lopez Escobar and her husband Olger Favian Chamorro Hernandez came from Colombia to attend Shuyoka. After Doralia suffered a miscarriage five years ago, an acquaintance at work invited her over to a home service in the neighborhood. Doralia and Favian began worshiping there on a regular basis.
Several months later, Favian, a police officer, was shot in the belly. He fell unconscious and his condition was critical. When doctors declared his case to be hopeless, friends conducted prayer services and administered the Sazuke to him. Favian's condition gradually became stable and, while he remained confined to a wheelchair, he eventually recovered. Doralia and Favian said that although they were anxious at first that he had to commute to Shuyoka by wheelchair, with the support of their homeroom instructor and fellow students, they experienced no hindrances and are grateful for everyone's help.
Suwanna and Witaya Markawat, followers of Krungthep Mission Station in Bangkok, are another married couple who returned to the Home of the Parent to attend Shuyoka. Two years ago, Witaya went into convulsions while he was asleep and was taken to the hospital. Witaya was diagnosed with a brain tumor and was to undergo surgery. The doctor informed them it was an extremely difficult surgery.
The day before the surgery, Witaya told Suwanna he dreamed of someone calling his name before mysteriously disappearing. Suwanna sensed it was a sign and she immediately went to her mission station and performed a prayer service. She resolved to enroll in Shuyoka with her husband.
Although the surgery the next day went smoothly, the tumor could not be removed entirely. Witaya himself resolved to enroll in Shuyoka. The Markawats say that due to the prayers of their instructors and fellow students from differing nationalities, Witaya no longer suffers from the headaches that plagued him. Suwanna says, "Looking back, I believe that God the Parent drew us back to Jiba at that time."
Insight Gained from Implementing the Teachings
Other students gained various insights after implementing the teachings—such as administering the Sazuke and engaging in hinokishin.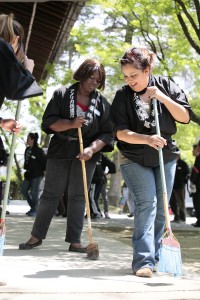 Glenda Gee from Australia embraced the faith not long after her children began attending Japanese language classes run by Melbourne Shinyu Church. Ms. Gee received the truth of the Sazuke six years ago. She takes every advantage she has at Shuyoka and at her followers dormitory to administer the Sazuke to people who are ill. She mentions she was initially nervous when she administered the Sazuke. In time, however, she felt more at ease as she realized it was not her but Oyasama who was doing the saving. Gaining this realization helps her better focus her attention on praying for the people she is administrating the Sazuke to.
Liao Feng-Tsun began attending the monthly services of the Mission Headquarters in Taiwan 41 years ago. Last year, a medical exam determined that his kidneys were operating at 18 percent of their normal capacity. His doctor informed him he would soon have to undergo dialysis unless something was done. Mr. Liao consulted Bishop Yoshiaki Mihama regarding his situation and was encouraged to enroll in Shuyoka to firmly pursue the teachings and receive the blessings of God the Parent.
Mr. Liao reflected upon his use of mind after learning more about the teaching of joyous acceptance in class. Although his kidney function has not shown an improvement he says he has learned to accept his illness in a more positive manner.
Nelson Yahiro, from Kona, Hawaii, U.S.A., suffered from palpitations and shortness of breath, but the local hospital found nothing abnormal in his condition. After members of his family encouraged him to enroll in Shuyoka, he quit his job and applied to Shuyoka. In his second month, Mr. Yahiro was examined at Ikoi-no-Ie Hospital and it was found that his heart had more valves than a typical person. He has since received medication for his condition.
Mr. Yahiro mentions how the smallest things would make him upset. Learning the Tenrikyo teachings at Shuyoka helped him reflect on the ways he uses his mind and has made interacting with people an enjoyable experience. He expressed his intention of participating in the upcoming Young Men's International Hinokishin Corps and giving his best effort with gratitude in his heart.
Source: Tenri jiho, June 24, 2012, p. 2.