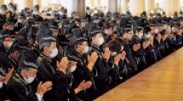 All church head ministers are given an opportunity to attend one of the Monthly Services within the boundary bars in the Main Sanctuary between May 2023 and August 2025, except when the Spring and Autumn Grand Services take place.
At a time when the pre-anniversary activities in the "three years, one thousand days" period leading up to the 140th Anniversary of Oyasama are underway, this opportunity allows church head ministers to offer the resolutions of their churches as their representatives, report to God the Parent and Oyasama on their daily efforts, and further strengthen their commitment.
At 8:00 a.m. on May 26, around 500 church head ministers, dressed in the kyofuku robe, started to arrive at the reception located at the north side of Foundress' Hall 3. Grouped by directly supervised churches, they proceeded to the Main Sanctuary and attended the Kagura Service and the Dance with Hand Movements in the expanded area within the boundary bars.
After the sermon by Honbu-in Masaharu Matsuda, the head ministers left the Main Sanctuary for the Foundress' Sanctuary, following Successor-Designate Daisuke Nakayama, the other Service performers, and the heads of directly supervised churches. After waiting in the East Corridor while the Service performers and the directly supervised church heads paid their respects to Oyasama, the group of head ministers entered the Foundress' Hall to pay their respects to Oyasama, with Director-in-Chief of Administrative Affairs Zensuke Nakata leading them.
Director-in-Chief Nakata then delivered an address. He said that it was hoped that the head ministers would share the truth of the Kagura Service that they had received today at their respective churches and lean on the truth. Then, he explained that "the period of 'three years, one thousand days' is the season in which we are encouraged to make more decisive efforts than usual and strive to carry out our activities in a more focused manner than usual." He went on to say that, having made an auspicious start on this occasion, "all of us head ministers would do well to go through the 'three years, one thousand days' with our minds in unison."