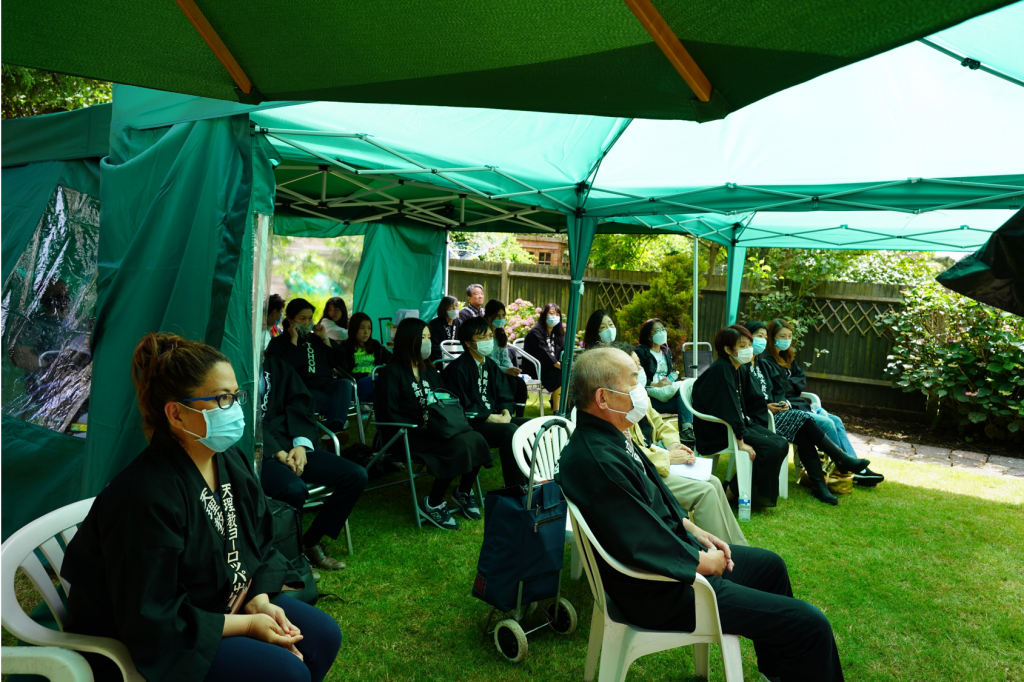 On July 4, Tenrikyo UK Centre celebrated its 21st anniversary, with 34 followers attending the event at the center while others from the U.K., France, the U.S., Australia, and Japan joined via Zoom. Among the distinguished guests were Rev. Masaharu Matsuda, head of Tenrikyo Overseas Department; Rev. Michihiro Kiyose, chief of the department's Europe and Africa Section; and Rev. Yoshihisa Hasegawa, head of Tenrikyo Europe Centre.
The anniversary service was originally planned to be held last year to mark the 20th anniversary, but it was postponed to this year due to the COVID-19 situation in the U.K. The number of people allowed inside the center was strictly regulated in accordance with the U.K. government's guidelines, with the attendees who were not performing the service inside the sanctuary watching the service on a TV screen that was set up in the back garden.
In his speech delivered after the service, Rev. Matsuda quoted from the Shinbashira's address delivered at Church Headquarters' New Year's meeting this year and spoke about the ongoing COVID-19 pandemic. He said, "It is important for all of us, who live in the middle of this crisis and see people around us suffering from the disease, to search for the intention of God the Parent behind what is happening." He then stressed the importance of thinking about what they can do in this challenging situation while being aware that everything that happens from moment to moment is itself a blessing. He concluded his speech by encouraging the followers to continue moving forward on their journey leading up to the goal of achieving a joyous life in the U.K.
Mr. Simon Patterson, who is head of the UK Centre, also gave a speech. After noting that the 21st anniversary can be seen as the center's "coming of age," he expressed his hope that the center will be able to continue to support people who follow the teachings of God the Parent and Oyasama in the U.K. He then said, "I am also delighted that we, the Tenrikyo community in this country, can say with confidence and pride that we are Tenrikyo followers, who follow the teachings of God the Parent and Oyasama, with this center as a hub for our community in this country." In concluding his remarks, he pledged to continue working together so as to make the center a yoki basho (joyous place) that local followers can all be proud of.