On January 11, Tenri University won the final of the 57th Japan University Rugby Championship with a 55-28 victory over Waseda University, achieving its first ever championship title at the third attempt in the 96-year history of the team. The game was held at the National Stadium in Tokyo, attracting some 11,000 spectators with strict preventative measures in place to curb COVID-19 infections.
Tenri scored the opening try in only the third minute of the game. Several more touchdowns followed and pushed Tenri to a 27-7 lead by halftime. Waseda hit back in the latter half, but Tenri maintained the momentum with more tries, closing out a 55-28 win. Tenri's 55 points set a record for the most points scored in a final game throughout the history of the championship.
On January 24, the team members and others involved with the team visited the Main Sanctuary to worship, bringing the victory trophies and cups. They also paid their respects at the Foundress' Sanctuary and the Memorial Hall. They then went to the Assembly Hall, where a congratulatory ceremony was held by representatives of Church Headquarters.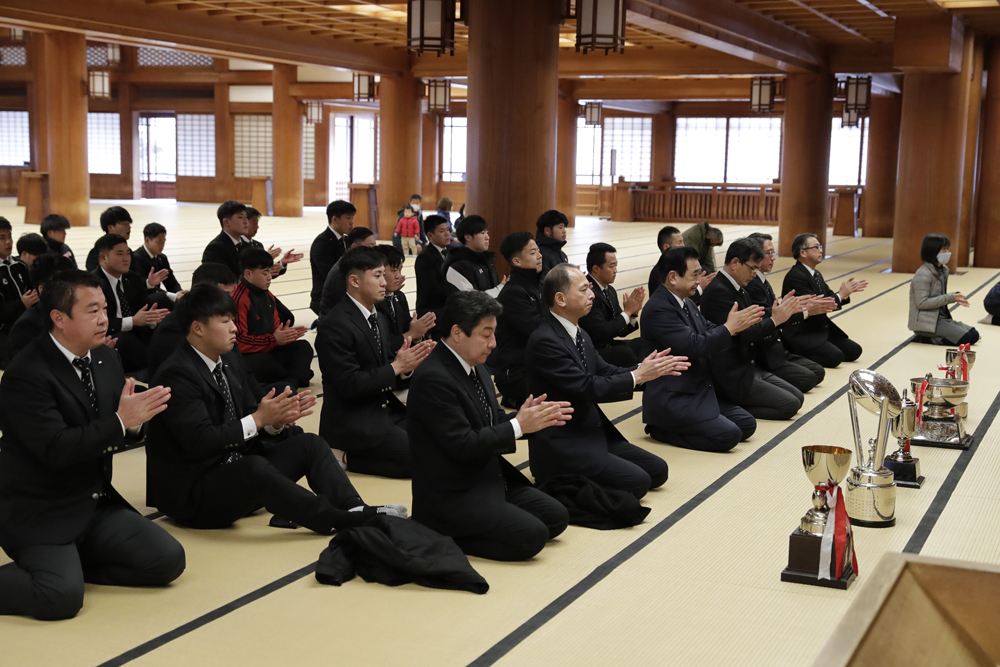 First, Successor-Designate Daisuke Nakayama offered words of congratulations, in which he said that their performance gave inspiration and courage to many people suffering amid the coronavirus pandemic. He commented that he himself was deeply moved, saying, "It really stood out in mind that, in every game and against any team, you were enjoying yourselves far more than others."
Next, Director-in-Chief of Administrative Affairs Zensuke Nakata spoke. He said, "On behalf of all followers of the path, we would like to offer you words of congratulations and appreciation." Referring to Captain Yamato Matsuoka's phrase "making repayment for what is given," Rev. Nakata mentioned that, when we follow the path, it is important to express our appreciation in words and with our attitude. Continuing, he said, "Your team expressed your appreciation in your performance, which is a source of great encouragement and a model for all followers of the path."
Following the congratulatory speeches, flower bouquets were presented to Head Coach Setsuo Komatsu, Captain Matsuoka, and Vice-Captain Fifita Siosaia.
Mr. Komatsu said: "With the trophies at hand, we have reported our victory to God the Parent, Oyasama, the memory of the second Shinbashira, and, especially, the memory of the third Shinbashira, who strongly supported us. I cannot describe in words how I am feeling at this moment." He also said: "The COVID-19 cluster in the team last year was contained within a month, which was thanks to various kinds of support given by many people of the path. I am truly grateful." Having shared his words of appreciation, he continued, "As our new challenge, we are setting our sights on our second consecutive championship next year."
Captain Matsuoka said that, as they were facing the big challenge of the cluster, they deeply took to heart all the encouragement and support from many people, which empowered the members to compete. "I am truly filled with gratitude to everyone who has supported us. At this moment, I feel most proud that I am a member of Tenri University Rugby Team," he said.