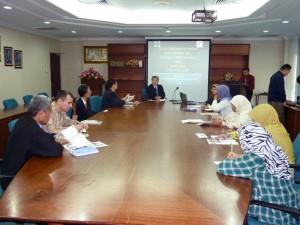 Tenri University President Masahiko Iburi recently paid a courtesy call to the International Islamic University Malaysia, which is located in the suburbs of Kuala Lumpur, the Malaysian capital, and, at the request of this university, gave a talk on Tenrikyo to students and faculty members in the field of religious studies. This was the first time someone from Tenrikyo was invited to lecture on its teachings at a religious institution in a Muslim region.
Rev. Iburi's visit to the International Islamic University was part of his tour of Southeast Asian universities, a tour he was undertaking in an effort to further develop Tenri University's international exchange programs. He wished to visit this Malaysian university partly because Tenri University Graduate Makoto Sawai, 27—who majored in religious studies at Tenri and is now a Ph.D. student at Tohoku University—is currently on a short-term study program at the International Islamic University. When President Iburi approached the university, some faculty members and others requested that he give a talk on Tenrikyo's teachings.
The International Islamic University Malaysia is a comprehensive university founded in 1983. It is counted among the most respected universities in the Muslim world and currently has some 20,000 students, many of whom come from the Middle East.
The first contact between Tenrikyo and Islam took place when the second Shinbashira visited a mosque in China before World War II. Thereafter, he contributed to developing Islamic studies in Japan. He was instrumental in establishing the Society for Near Eastern Studies in Japan.
President Iburi's lecture is seen as very important by the Religious Studies Department of Tenri University. "Although the dialogue between Tenrikyo and Christianity has been actively pursued, there has not been such an opportunity to engage in dialogue with Islam," says the head of the department. "In this sense, I believe that the invitation President Iburi received to deliver the lecture is highly significant."
Great Interest Shown in the Teachings
Rev. Iburi's lecture, delivered on July 19, was entitled "The World View of Tenrikyo" and comprised five parts: "The March 11 Earthquake and Tsunami," "The Teachings of Tenrikyo," "Japan's Postwar Reconstruction and Modern Society's Problems," "DVD: 'The Four Seasons of the Home of the Parent,'" and "An Overview of Tenri University"
In the part on the teachings of Tenrikyo, he placed emphasis on Oyasama. "In Tenrikyo we seek to model our own lives on Oyasama's life," he said. "We are taught to follow Her model path, which is characterized by . . . accepting all things, lavishing love upon everyone, and being compassionate in guiding people."
He went on to explain several key terms used in Tenrikyo, such as "the Joyous Life," "a thing lent, a thing borrowed," "the dust of the mind," "You are saved by saving others," and "the Jiba-Kanrodai."
In the question and answer session that followed his lecture, a number of questions were asked, including some that were related to eschatology, such as "Given that the world is bound to end, how do you envision the construction of the Joyous Life?" and "What will happen to humans when they die?" President Iburi answered each question carefully and thoughtfully.
According to Mr. Sawai, Muslim students show a strong interest in Tenrikyo, which, like Islam, is a monotheistic religion, and, even after President Iburi's session was concluded, they raised various questions such as whether or not Tenrikyo followers fast.
On the afternoon of the 19th, President Iburi paid a courtesy call to the Japanese Embassy in Malaysia. Ambassador Shigeru Nakamura, who met with President Iburi, expressed expectations that Tenri University will further increase exchanges with universities in Malaysia as well as promote inter-religious dialogue proactively.