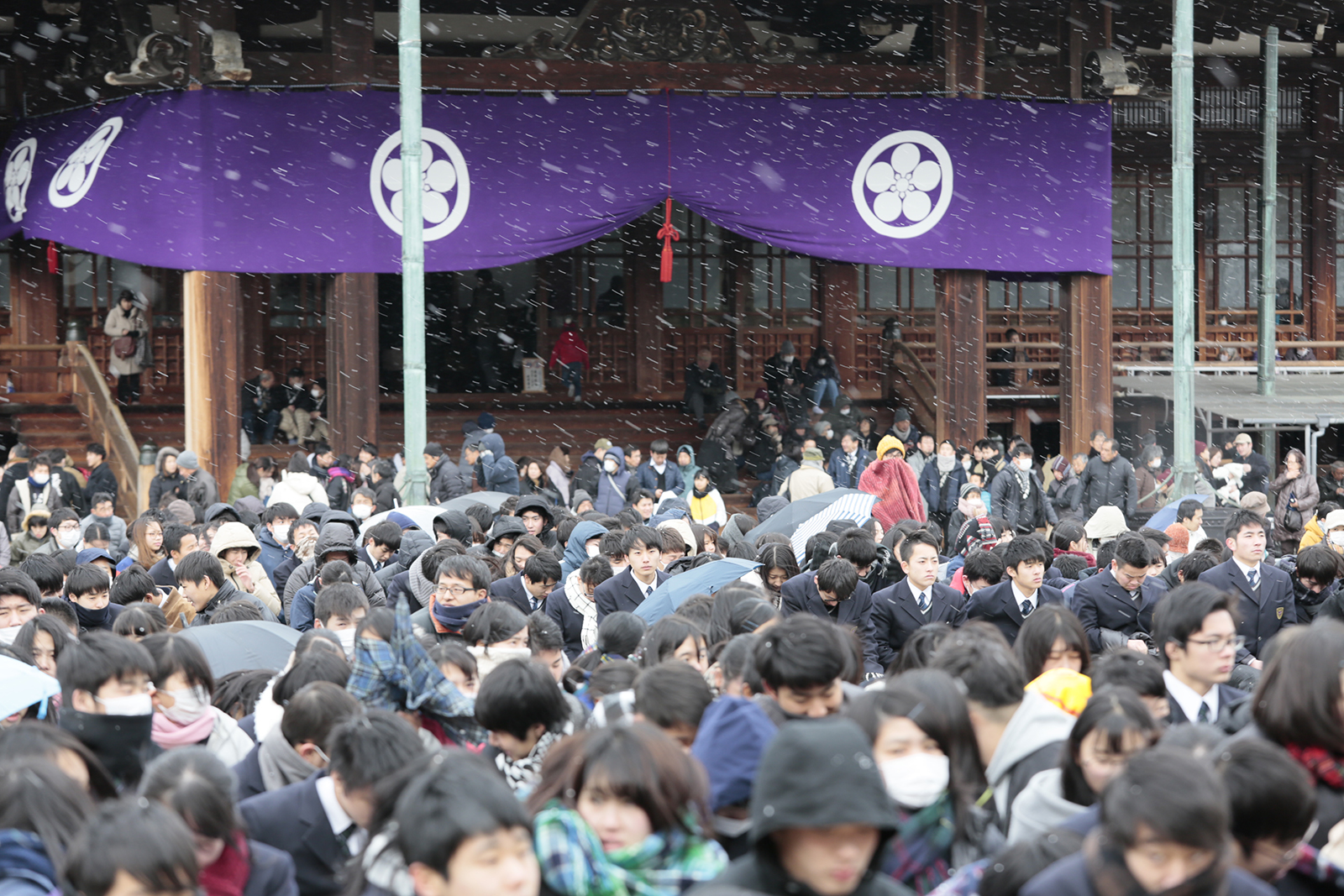 On January 26, the Spring Grand Service commemorating the day when Oyasama withdrew from physical life—namely, the lunar calendar date of January 26, 1887—was performed in the Main Sanctuary of Church Headquarters with Successor-Designate Daisuke Nakayama presiding as chief officiant. Approximately 58,000 followers from both within and outside Japan returned to Jiba to attend the Service.
When the appointed time came, Rev. Nakayama and other Service performers proceeded to the Main Sanctuary after paying their respects at the Foundress' Sanctuary and the Memorial Hall. Just before this, the Shinbashira arrived in the South Worship Hall. Rev. Nakayama then ascended the upper dais, where he delivered the Service prayer.
After expressing his appreciation to God the Parent for laying the path of single-hearted salvation and for continuously leading us toward the Joyous Life through the guidance of the everliving Oyasama, he said, "All of us Yoboku, including church head ministers, are determined to embark on the next stage with renewed minds so we can live up to the expectations of Oyasama, who yearns for Her children's spiritual growth and the development of the path of world salvation more than anything."
The prayer was followed by the joyous performance of the Kagura Service and the Dance with Hand Movements. The Shinbashira stayed throughout the Kagura Service. The followers, having filled the worship halls, the Corridors, and other areas in the Sanctuary precincts, joined together in singing the Mikagura-uta, the songs for the Service. Following the Service, Director-in-Chief of Administrative Affairs Zensuke Nakata delivered the sermon.
In his sermon, Director-in-Chief Nakata spoke about the situation leading up to the lunar calendar date of January 26, 1887, the situation in which early followers could not perform the Service as they wished. He talked about the agony and conflict the followers felt in regard to Oyasama's health and the performance of the Service, and he shared his reflections on their faith and resolve. He then encouraged all followers to bring their minds into unity with the Divine Model, discuss with one another the things that occur in their lives, and walk the path joyously regardless of what situation they may be in.
Over 300 people from overseas countries and regions returned to Jiba for the Spring Grand Service. The Service prayer and sermon were interpreted simultaneously into four languages: English, Chinese (Mandarin), Korean, and Portuguese.