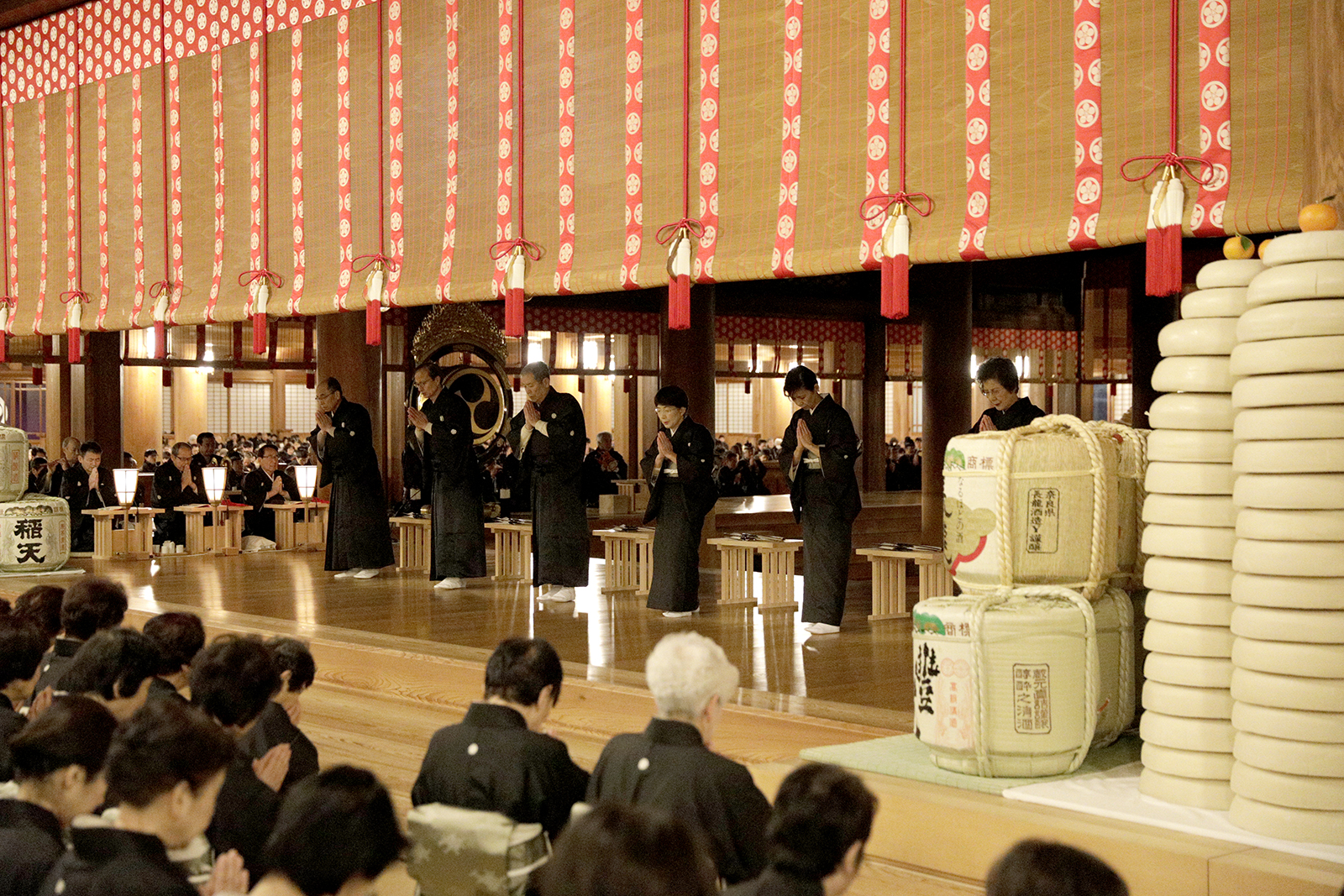 On January 1, the New Year's Day Service for the 182nd year of the Teaching (2019) was duly performed at 5:00 a.m. in the Main Sanctuary with the Successor-Designate Daisuke Nakayama as chief officiant. Many followers who had gathered at the Home of the Parent before daybreak attended the first Service of the year with a fresh resolve to make further efforts to promote world salvation.
At the appointed time, Rev. Nakayama and other Service performers left the Staff Quarters and paid their respects at the Foundress' Sanctuary and the Memorial Hall before proceeding to the Main Sanctuary.
In the Service prayer, Rev. Nakayama first expressed his gratitude for the new year. He then said: "Looking back on the past year, we devoted ourselves to our tasks of the season, however insufficient our efforts might have been. I am deeply indebted to You and would like to thank You for Your parental love in guiding us in the embrace of Your warm heart each day."
He went on to say: "Having welcomed the new year with fresh minds, all of us Service performers as well as the church head ministers and other Yoboku are determined to exert our utmost sincerity in missionary work, salvation work, contribution, dedication, and hinokishin, as we strive to bring ourselves into accordance with Your intention to hasten world salvation. I ask that You will continue to provide us with training to help us overcome our shortcomings and that this year will be a fruitful year when 'buds sprout from knots' as we are taught."
After the prayer, the Kagura Service and the Dance with Hand Movements were performed joyously, with the followers joining in singing the songs for the Service in unity of mind.
Following the performance of the Dance with Hand Movements, Rev. Nakayama proceeded to the Foundress' Sanctuary to read his prayer before Oyasama. He offered his greetings of the new year, saying, "Happy New Year, Oyasama. As the new year begins, our renewed minds lead us to find even greater joy in serving as Your instruments. We intend to advance our spiritual construction while orienting our minds in the same direction and keeping in step with one another."