Fragrance of the Teachings Sprinkled around the Country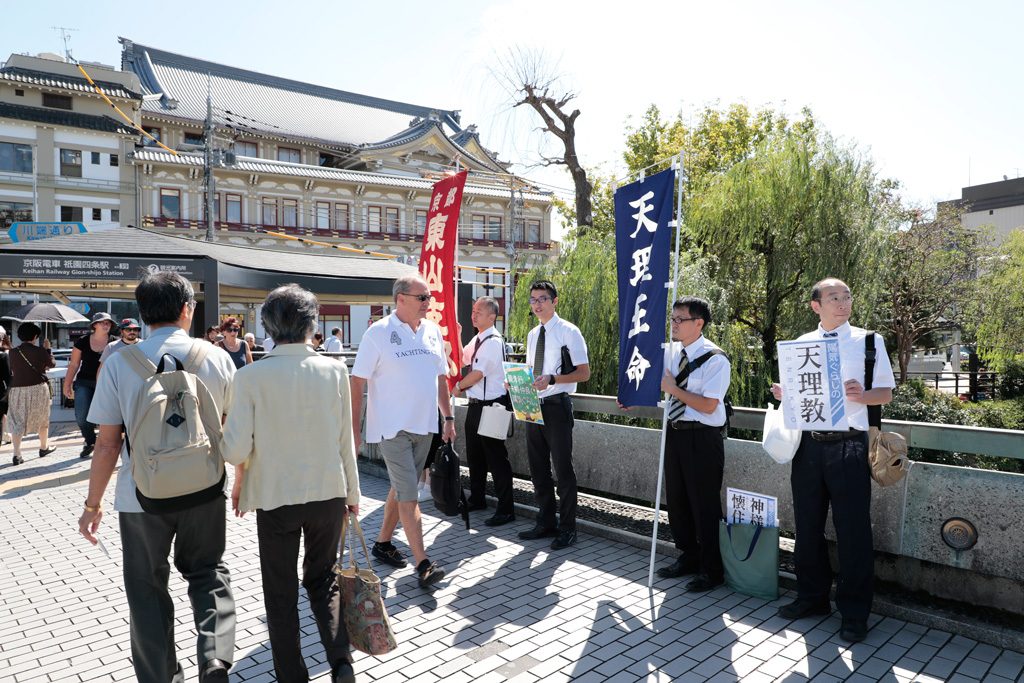 This year's Tenrikyo Nioigake Day, which was observed between September 28 and 30, was organized under the same theme as in previous years: "The day for Yoboku to be active." As for the Roadside Speech Day—part of the Nioigake Day event, which until last year had been held only on day one—each district had the option to observe it on one of the three days depending on local circumstances.
The leaflet prepared for the event this year is entitled Is Your Body Yours? Centering on the teaching of a thing lent, a thing borrowed, the leaflet reminds the reader to appreciate being alive and feel a sense of joy in everyday living. This year marks the 20th year since September was designated as the month to emphasize sprinkling the fragrance of the teachings, and the Nioigake Day was the culmination of the month-long focus on this important practice. Followers spiritedly took part in spreading the name of God and door-to-door missionary work around the country, with church head ministers leading their groups by showing examples.
In Higashiyama District, a group of followers called "Michino kai"—established last October to promote sprinkling the fragrance of the teachings—played a key role in the event. On the 28th, 27 followers gathered at Keijo Grand Church to begin the day's activities by performing the seated service together. Then after spreading the name of God while walking to Shijo Ohashi, 15 of them made roadside speeches and distributed 500 pocket-size packs of tissues in the area around Shijo Ohashi, which was crowded with tourists and families.
A total of 885 resident officials and staff members of Church Headquarters engaged in door-to-door missionary work on September 28 and 29 at Senboku New Town, one of the largest residential areas in the Kansai region, with more than fifty thousand households and about a hundred thousand residents. The final day was canceled due to an approaching typhoon.