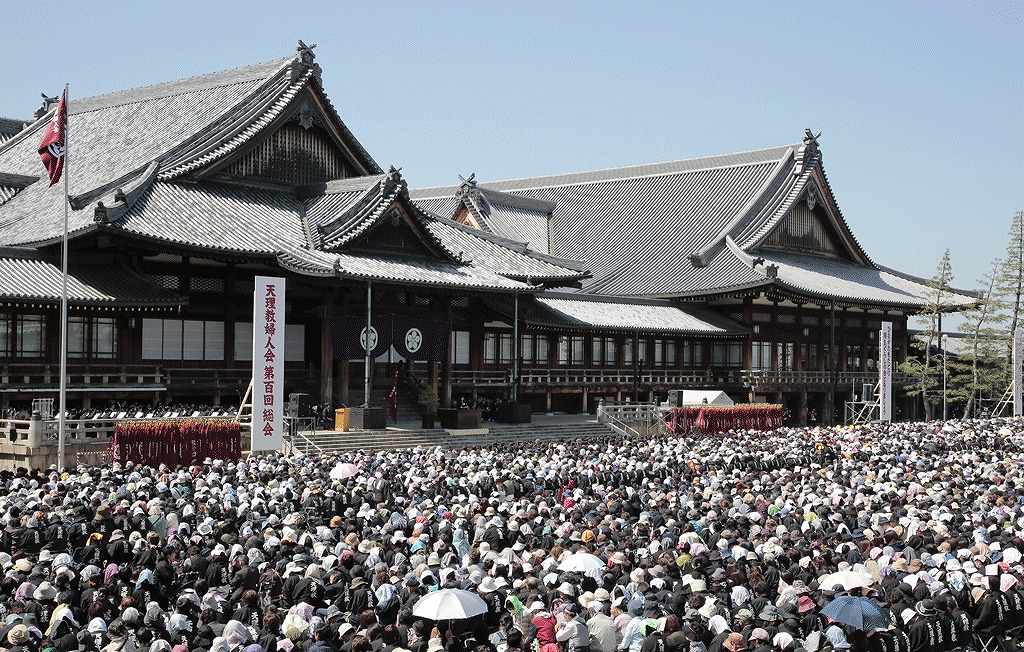 Tenrikyo Women's Association held its 100th convention in the Inner Courtyard of Church Headquarters on April 19, the day after the Oyasama Birth Celebration Service. The occasion drew some 40,000 members.
The convention was blessed with clear blue skies. When the registration desks opened at 8:00 a.m., groups of members began to file into the Sanctuary precincts one after another, carrying the banners of their chapters. At 9:30 a.m., Women's Association President Harue Nakayama escorted the Shinbashira, Successor-Designate Daisuke Nakayama and his wife, and other guests into the Inner Courtyard. The ceremony began with the singing of the Eight Verses of the Yorozuyo. This was followed by a pledge made by a representative of new members and a progress report presented by Committee Member Emiko Moroi.
President Nakayama then delivered her address, touching upon the Seminar for Successors that was held from last August to late March this year. She said that whether or not those who had attended the seminar would be active in carrying the path forward in the future depended on the care and nurture they received from their churches. She thus urged the members to continue to guide and nurture them.
After mentioning that the Women's Association was holding its 100th convention, she talked about how the association had been established in accord with God the Parent's intention. She then reflected on how its members' predecessors had resolutely upheld the fundamental spirit of the Women's Association and fulfilled the main task of serving as the "foundation of the path" with the successive association presidents as the core, while relying on Oyasama's Divine Model and receiving guidance from the successive Shinbashiras.
She stated that she could feel the weight of history behind the 100 association conventions as she gave thought to the boundless parental love of God the Parent and Oyasama, who had patiently guided the Women's Association, and to the painstaking efforts of the members' predecessors.
Then, quoting several Ofudesaki verses referring to the Truth of Origin, she stated that saving people through teaching the origin is the essence of salvation in the teachings of Tenrikyo. She went on to say that she would like all members to convey the teaching of the Truth of Origin and the day of origin of their family's faith to their children and those close to them.
She urged the members to respond to their predecessors' painstaking efforts and God the Parent and Oyasama's parental love, by carrying on the mission of ensuring that the path continues through future generations. She further stated that in order to convey the teachings to future generations, it is vital for all members to make earnest efforts to be the first ones to proactively study the teachings and settle them in their minds.
President Nakayama said: "Let us women, who are endowed with the abilities to bear and nurture, bring about an atmosphere of warmth and brightness around us and convey the teachings without error to those who are close to us and who will carry the path forward in the next generation, while cherishing communication with them in words and in faith. Let us engage in the important task of nurturing them into true Yoboku in high spirits so that they can establish an unshakable conviction of faith."
She further encouraged each member to receive the blessings to bring two newcomers to the association, aiming at achieving a million members. She closed her address by saying, "In anticipation of our 110th anniversary to be held two years from now, I very much hope that you association members make every effort, starting today, to ensure that we can bring forth the fruits of the sincere work we carry out in unity of mind."
Next, the Shinbashira took the podium to deliver his address. He first talked about Oyasama's fifty-year Divine Model and went on to state: "Because Oyasama continues to work by virtue of Her eternal life, we are able to follow the path with peace of mind. For those of us who live in this rapidly changing society today, how reassuring it is to know that She continues to guide us." He then explained how Oyasama tirelessly made efforts to guide and nurture us. Her example, he said, teaches us something important to keep in mind while conveying and spreading the teachings. He also said: "In order to respond to Her parental love, we should sweep the dusts of mind that accumulate in our hearts without our knowing it. Following the path laid by Oyasama, taking one step at a time, is how we can make progress in our spiritual growth."
He then said: "Following the Divine Model of Oyasama entails implementing a life filled with joyousness in the course of our daily life. This does not apply only to some special occasions or periods, but rather we need to make repeated, tireless efforts day after day." After briefly outlining the Story of Creation, he said, "If we are to nurture and guide other people, we should not quit after only one or two failures but rather keep trying by humbly seeking the causes of those failures and by making adjustments accordingly, thereby fulfilling responsibility for taking care of them until they are fully grown."
He told the members that making a sincere, daily effort to take care of those guided to the path was one way in which they could give active expression to the qualities and virtues they are endowed with as women. He then said: "You should bring your minds into accord with the intention of God the Parent, listen to and talk to each other kindly, and work with fellow members so that more and more people will join you in helping one another. I believe this is one of the pillars that are important for the activities of the Women's Association."
He then quoted a Divine Direction related to nurturing people. Explaining that guiding and nurturing even a single person requires much time and energy, he stated: "With a firm resolve to do whatever it takes to have this one person grow spiritually, we should continue making tireless efforts to nurture and guide that person while settling our own mind as we go through both good and bad days. This effort will eventually lead to the joy of following the Divine Model of Oyasama."
He concluded his address by stating: "Oyasama taught us that, by sweeping our mind of greed and by renouncing attachment, we will become brightened in mind and, from the bright, radiant mind, the world of joyousness will open up by itself. When we make repeated efforts to follow the Divine Model exactly as we are taught in the Divine Model and live each day joyously, this way of living will allow our joy of faith to be conveyed to the next generation. It is my hope that you members of the Women's Association will help one another grow spiritually as women and, with a proper understanding of the qualities that you are endowed with as women, I hope you will extend the path further and hand it down to the next generation. I hope that you will take the association activities as your own concern and make a proactive effort to find a way to reach out to wide generations and to carry out activities so that they can help one another grow spiritually. I earnestly hope that the Women's Association will be the kind of association that provides a foundation for the Joyous Life in this way."
After the Shinbashira's address, Shikishima Chapter Chairwoman Haruno Yamada delivered a pledge on behalf of all members. The members then sang "Tenrikyo Women's Association Song."