Among the many dioceses that have sent their Disaster Relief Hinokishin Corps (DRHC) to areas affected by the March 11 disaster, the Taiwan DRHC, the only formally organized corps overseas, was mobilized on May 28. This marked the first time the Taiwan DRHC was dispatched to participate in disaster relief efforts in Japan since its formation 10 years ago.
Nine members of the Taiwan DRHC left Tenrikyo Mission Headquarters in Taiwan on May 27 and arrived in Tenri the next day. Rev. Yoichiro Miyamori, the head of Tenrikyo Overseas Department, met with them and they conducted a prayer service in the Main Sanctuary of Church Headquarters.
Head Minister Taihei Shimizu of Chang T'ai Church, who is the head of the Taiwan DRHC, came to see them off. "Although I can't go with them this time because I am the homeroom instructor for this year's Chinese class of the Spiritual Development Course, I wanted to come to give them a shout-out before they went on their first assignment in Japan," he said. "Since there are many others back in Taiwan who wished to come but couldn't, I'd like for them to do their best on their behalf as well."
Many people from overseas have shown their support since that fateful day. In Taiwan, charity efforts directed to survivors came in many shapes and forms, such as television programs that collected donations.
Head Minister Huang Deng-zhou, the unit leader, mentioned that people in Taiwan still remember how Japan was the first to offer support when the 9/21 earthquake struck Taiwan in 1999 and when Typhoon Morakot caused severe flooding three years ago. He then said: "I believe the support everyone in Taiwan is giving now is their way of repaying the favor. We wish to represent Taiwan as a whole during our presence here."
The Mission Headquarters in Taiwan held prayer services that were timed to coincide with the prayer services conducted in the Main Sanctuary of Church Headquarters beginning the day after the disaster. The mission headquarters also started a drive to collect donations and held an emergency Taiwan DRHC meeting, after which a notice was sent to all members requesting them to be ready to be mobilized at any time.
After the meeting, the damage at Fukushima Daiichi Nuclear Power Plant prompted foreigners living in Japan to leave the country. Even in the middle of this development, Taiwan DRHC members say they continued to receive encouragement from their families and friends regarding their potential mobilization.
When Xu Jian-xiong told his wife about the mobilization, she told him she absolutely wanted him to do it. He said: "Some people think that Japan will be fine even without support from other countries. I'd like to go back and tell anyone who thinks this way about the actual situation here in Japan and make firm efforts to appeal for the need for long-term support."
Shinzo Mesaki, a Japanese language teacher who went to Taiwan 17 years ago, said that his bosses wished him well when they learned he was going to Japan. He said: "I have always proactively participated in training sessions, so my family and everyone at my company have supported me. I'd like to live up to their expectations."
The Taiwan DRHC made a stopover at the Niigata Diocese Office and reached Ichinoseki City, Iwate Prefecture, on May 29. Nearly three months after the disaster, many affected areas in northeastern Japan were still strewn with mountains of rubble. Scenes of devastation along the coast were engraved in the minds of corps members as they traveled en route to the DRHC base in Senmaya.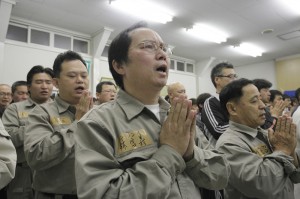 Dong Wan-zhong showed a look of firm determination as he said, "Seeing what we just saw made me want to devote my utmost efforts all the more to help these people get back on their feet as soon as possible."
The Taiwan DRHC began their relief efforts on the next day, May 30. Although the initial schedule was for them to help with cooking at an evacuation shelter in Rikuzentakata City, the weather forecast warned of strong winds and rain due to a typhoon. Thus, the Taiwan DRHC cooked pork soup at the base where they camped and delivered it to the shelter.
At 3:30 p.m., when corps members left camp, they brought a box that read, "Gao Shan Oolong Tea." They had brought this specialty tea from Taiwan with the hope it would bring smiles to the people living at the shelters.
Some 120 people are still living at the multiathletic facility Sun Village Takata. This was the 12th time a DRHC unit cooked for survivors at this facility.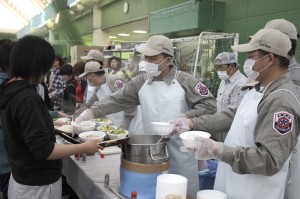 At a little past 6:00 p.m., there was an announcement on the PA that went, "Today's pork soup was made by Tenrikyo followers from Taiwan." A line quickly formed at the counter where corps members waited.
Lin Xin-yi smiled as he passed out bags of oolong tea while holding a sign in Japanese that read: "This is oolong tea from Taiwan. Please feel free to take some." He said: "I really wanted to come as soon as the disaster struck. I am happy that I could help."
After corps members finished serving soup and were about to return to camp, survivors lined up at the entrance to see them off. The Taiwan DRHC received a big round of applause, and some corps members could be seen shedding a few tears.
Shi Rong-jin represented the Taiwan unit the next day at morning assembly. Through an interpreter, he addressed the units who were assigned to distribute water and clear debris that day. He said: "I was able to reaffirm the significance of doing hinokishin with just the simple act of doing something for the survivors like serving a single meal. Let's continue the tasks we have remaining in a unity of mind."
On the second day, Taiwan DRHC members divided up to cook at a shelter and clear debris in Kesennuma City, Miyagi Prefecture. Much debris remains to be cleared in the Kawarada district of the city, which suffered much damage from the tsunami.
Five Taiwan corps members were assigned that morning to help at the home of a woman who owned a sports shop. The first floor of her house that was built just last year was damaged by the tsunami. Only the second floor of her house is barely habitable.
The corps members went about carefully removing the sludge from the parking space in front of the woman's home. She said: "I am so thankful that they came all the way from Taiwan. I'm definitely going to continue living in this house."
In the afternoon, the Taiwan corps members joined others from Chiba Diocese to remove debris at another location. Other members cooked somen noodles at Matsuiwa Community Center and Matsuiwa Elementary.
Rev. Huang, the unit leader, said: "I don't think I've ever felt so strong about the importance of working while wanting to make people happy with each task we did as much as I do right now. I believe the way to the Joyous Life requires us to help each other regardless of race or nationality. This assignment has allowed all of us to realize once again the joy of helping others."
Taiwan corps members took the initiative to say "Xie xie" (Thank you) when they served meals to survivors. The survivors who received the food likewise said "Xie xie" in return. Although the conversation continued no further than this, the smiles of the survivors as they ate their meals certainly spoke volumes about the passion of Taiwan corps members who sprang to help their fellow brothers and sisters across the ocean.