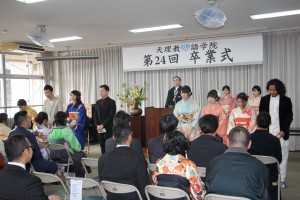 Tenrikyo Language Institute (TLI) held its 24th graduation ceremony on March 8th in honor of 59 graduates (Japanese Language Department, 39; Oyasato Fusekomi Department, 20). They were from 15 countries and regions: Indonesia, Thailand, Nepal, Philippines, Cambodia, Myanmar, Taiwan, South Korea, Hawaii, Argentina, Colombia, Mexico, Venezuela, Brazil, and Kenya.
After presenting the diplomas to the graduates, Principal Harunori Watanabe gave a farewell address stating: "I would like you to overcome whatever obstacles you may encounter in the future by seeing them as something that God the Parent has provided for you, in order to help you grow more spiritually mature. I would also like you to help those around you with a mind of saving others."
At the end, a representative from each department gave a speech expressing their appreciation to the staff members of the institute as well as their fellow graduates and set forth their resolutions to contribute to the overseas mission.