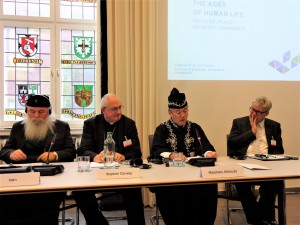 From September 10 to 12, the International Meeting of Prayer for Peace was held in the German cities of Münster and Osnabrück drawing religious leaders, researchers, and government officials from many parts of the world.
The event was organized by the Community of Sant'Egidio—a lay Catholic group headquartered in Rome—in close collaboration with the Catholic Diocese of Münster and Osnabrück and other religious groups.
The Tenrikyo delegation included Honbu-jun'in Masaharu Matsuda, Europe Centre Head Yoshihisa Hasegawa, Dai-Roma Mission Station Head Hideo Yamaguchi, Köln Fellowship Head Yoshiro Shimizu, and Chinzei Amstel Fellowship Head Mineko Miura.
Under the theme "Paths of Peace: Religions and Cultures in Dialogue," the meeting featured a total of 26 panel sessions, one of which was "The Ages of Human Life," where Rev. Matsuda spoke as a panelist along with a Catholic Archbishop, an Anglican Bishop, an Orthodox Metropolitan Bishop, an Islamic theologian, a Catholic academy director, and a Primary Physician of the Alexianer Hospital in Cologne.
The meeting seeks to continue the spirit embodied by the first World Day of Prayer for Peace convened in October 1986 by the late Pope John Paul II, who had invited religious leaders from across the world to gather in Assisi, a Catholic holy site in Italy, where the participants called for peace, unity, and interreligious understanding together.
Pope John Paul II closed that historical event with the call "Let's keep spreading the message of peace and living the spirit of Assisi" and, each year after that, the Community of Sant'Egidio has sought to fulfill "the spirit of Assisi" and taken the initiative to hold the annual meeting of prayer for peace in various European and Mediterranean cities.
Tenrikyo has participated in the meeting almost every year. The 2009 meeting in Krakow, Poland, was attended by the Shinbashira and his wife.
In addition, because of local followers' connection with the community, Tenrikyo has been asked to offer help behind the scenes. This year, a follower living in Italy, a researcher at Tenri University's Oyasato Institute for the Study of Religion, and a staff member from Tenrikyo Overseas Department were involved in the event as interpreters.
The meeting started with the opening assembly on the afternoon of September 10 at the Congress Center Halle Muensterland in the presence of the Chancellor of Germany, Angela Dorothea Merkel.
A message from Pope Francis was also read as one of the welcome messages. His Holiness said in his message: "This year's theme is an invitation to forge new paths of peace. How greatly this is needed, especially where conflicts seem intractable, . . . leaving entire peoples to plunge into a dark night of violence, without hope for a dawn of peace. Yet countless of our brothers and sisters continue to ʻthirst for peace,' as we affirmed last year in Assisi. Alongside political and civil leaders, who are responsible for promoting peace everywhere, today and in the future, the religions are called, by prayer and by humble, concrete and constructive efforts, to respond to this thirst, to identify and, together with all men and women of good will, to pave tirelessly new paths of peace."
During a session on the 11th, Tenrikyo's Honbu-jun'in Matsuda gave a speech as a panelist, emphasizing the importance of endeavoring to be an exemplary model based on the teachings in today's world of longevity and complexity.
Touching upon the teachings of Tenrikyo, Rev. Matsuda said: "The goal of Tenrikyo is the Joyous Life, where all people in the world help one another, live joyously, and thereby bring joy to God. I, as a minister of Tenrikyo, must try to ensure that there is mutual help in my family first before I preach others to do so." He then continued: "Having more institutions such as hospitals, nursing homes, hospices, orphanages, and schools is good, of course, and Tenrikyo, too, just like other faith-based organizations, provides the public with such facilities. However, let us ask ourselves first if each of us is looking after those who are ill, taking care of elderly people, and teaching young children to develop faith in our daily lives and within our own families. Even if you don't live with your family, you can always reach out to your neighbors, friends, and colleagues. Start with something simple and spread it in wider circles. I believe that this is a proper way to work toward our goal."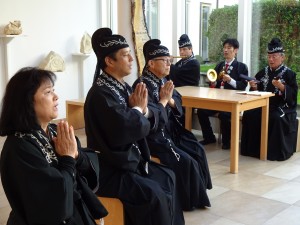 On the evening of the last day, the 12th, participating religious groups were allocated separate venues to conduct their respective prayers for peace. The Tenrikyo delegation performed the seated service, the Eight Verses of the Yorozuyo, and Songs One through Six of the Twelve Songs to the accompaniment of musical instruments.
After the prayer, religious representatives marched in procession from their prayer locations to the old central square of Osnabrück for the final ceremony. At the final ceremony, leaders from all participating religions lit "candles for peace" and signed an Appeal for Peace while praying for the realization of a war-free, peaceful world.