This year's Tenrikyo Nioigake Day was observed between September 28 and 30, wrapping up a month that Tenrikyo annually designates as the month to vigorously promote nioigake, which translates as "sprinkling the fragrance of the teachings."
This year marked the 20th year of Tenrikyo Nioigake Day since the three-day period between September 28 and 30 was set aside for followers to actively engage in missionary work.
This year, 5.5 million copies of pamphlets were printed, and church head ministers led the way as followers engaged in door-to-door missionary work and spread God's name. On the 28th the Shinbashira visited the four districts of Higashiyama, Sakyo, Kita, and Rakunan in Kyoto Diocese, where followers were giving roadside speeches.
What follows is the Tenri Jiho newspaper's report on two districts' activities that aim to increase followers' involvement in salvation work.
Sasebo, Nagasaki
Over the last 40 years, Sasebo District of Nagasaki Diocese has held a monthly nioigake day on the second day of every month, drawing approximately 30 participants on each occasion.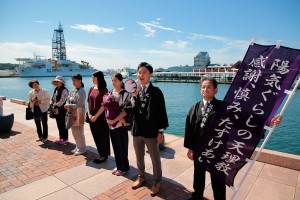 On the 28th and 29th, activity organizers divided the district into six areas, and followers actively engaged in door-to-door missionary work and gave roadside speeches in their respective areas. In addition, the 30th was set aside for joint nioigake efforts to spread the name of God the Parent and hand out pamphlets around JR Sasebo Station and its vicinity. Starting at 10:00 a.m., 49 followers and ministers engaged in missionary work, conveying the joy of faith and the wonderfulness of the teachings to passersby at the station square and along the nearby shopping street bustling with tourists and families.
One of the participants, Ms. Sachiyo Sakai, 69, said: "My husband and I have been engaging in sprinkling the fragrance of the teachings to build the basis for receiving blessings. I hope that we can continue to spread the fragrance of the path together as a couple."
Bunkyo, Tokyo
In Bunkyo District of Tokyo Diocese, 13 people gave roadside speeches on the 28th in front of JR Sugamo Station. On the 29th the district's regional churches and mission stations independently conducted missionary activities.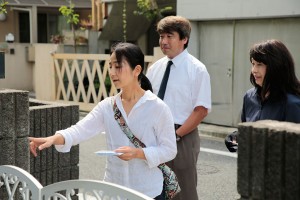 On the 30th, the district held a Yoboku and followers gathering at Hon-u Branch Church for the first time, attracting 55 followers who live in the district. They first performed the seated service and the service dance and then set out to spread the name of God and engage in door-to-door missionary work in a nearby residential area and a shopping street.
Mr. Yokio Ota, 85, commented: "My home is far away from the church that I belong to. I have strongly felt the importance of connecting myself with followers who live in the same district."