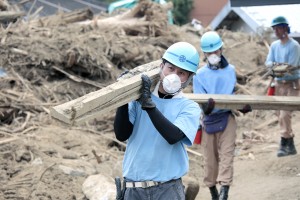 At the request of Fukuoka Prefecture's Asakura City and the local disaster volunteer centers, Tenrikyo Disaster Relief Hinokishin Corps sent units from Fukuoka Diocese and began their activities on July 11 in Asakura City, which had been hit by a severe rainstorm in early July.
Meanwhile, units from Oita Diocese conducted their relief activities in Oita Prefecture's Hita City between July 15 and 17, working to remove debris and dirt from storm-damaged homes and a church.
On July 21, Tenrikyo Disaster Relief Hinokishin Corps Headquarters Director Isafumi Tanaka visited the devastated areas for the second time to assess the extent of damage as well as the amount and kind of relief work needed. On the 25th, at the meeting of the Disaster Countermeasure Committee (chaired by Tastufumi Shikao) held in Jiba, the decision was made to send units from 14 dioceses and the corps headquarters.