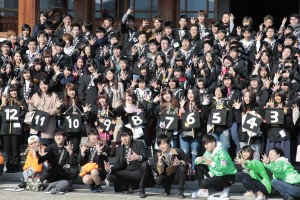 On March 28, this year's Students' Spring Pilgrimage to Jiba, cosponsored by the Students Association and the Students Advisory Committee, was held in the Home of the Parent under the slogan "Let us nurture ourselves to become Yoboku who will lead the next generation." Honored by the presence of the Shinbashira, his wife, and Successor-Designate Daisuke Nakayama, the convention was attended by approximately 5,200 high school- and college-age students from all parts of the country.
In his address, the Shinbashira said, "I sincerely hope that you will learn a lot of things while you are young and train yourself to settle the mind through things that happen to you so that you can grow into fine followers of the path."
After the convention, members of the association participated in activities organized by their respective directly supervised churches to strengthen their bonds. In addition, 470 students, including 90 first-timers, attended the Besseki lectures.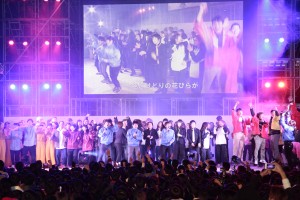 On the previous day, the "Spring Festival" was held on both sides of the South Gate. The event featured 78 food booths run by diocese and directly supervised church groups as well as a variety of entertainment provided on stages.