On January 25, Tenrikyo Young Men's Association held its monthly meeting at Yoki Hall. It was attended by approximately 450 people, including chapter chairmen of directly supervised churches and dioceses as well as members of the steering committee.
At the beginning of the meeting, Association Chairman Yoshihito Ando announced the association's new guidelines: "Be grateful and take on new challenges." He then stated, "Toward the bright future of the path, the Young Men's Association will continue to take on new challenges and offer attractive activities."
Kazumoto Kubo, head of the Training Section of the association headquarters, then explained one of the new activity goals: "Let each of us bring one new person to worship." He said that each association member is encouraged to bring at least one new person to worship at a Tenrikyo facility where a symbol of worship (medo or kanzane) is enshrined—such as a church or fellowship—between April 1 this year and October 25 next year. He also announced a plan to distribute a smartphone app that can be used as a tool for promoting the association activities.
Association President Daisuke Nakayama, who took the podium to deliver his address, also referred to the activity goal of bringing new people to worship. He pointed out that the aim of the activity is to connect new people with churches and to create opportunities for salvation work. He said, "Rather than focusing on numerical goals, I would like you to carry out fresh activities to spread the teachings in high spirits." He then encouraged the participants, saying, "Let us take today as a new beginning and, keeping in mind the new guidelines 'Be grateful and take on new challenges,' let us exert our utmost efforts both to seek the path so as to correct the orientation of our mind and to spread the teachings so as to bring new people to worship."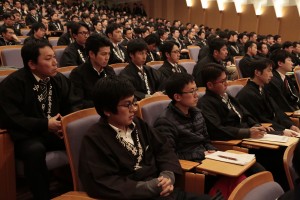 The association's main activities for this year include the 93rd Young Men's Association Convention to be held in the Inner Courtyard of Church Headquarters from 10:00 a.m. on October 27. As for the activities to be conducted by the chapters based in churches, Arakitoryo Nioigake Day (day focused on sprinkling the fragrance of the teachings) is scheduled for the second Sunday of each month. Regarding regional activities, the association encourages members to work on the "Joyous Life PR Project," which is a public relations campaign to spread the association's current catchphrase: "filial piety and harmonious husband-wife relationship." May 14, which is Mother's Day in Japan this year, is designated as Action Day for all diocese chapters to carry out the project. As part of the activities to nurture young members, directly supervised chapters will conduct the Arakitoryo Orientation, which targets high-school-age members, between March and August. In addition, all directly supervised chapters will hold their respective 100th Anniversary Pre-Convention Rallies.