The Sechi Festival, an annual New Year's event at the Home of the Parent, was held from January 5 to 7. This long-standing, traditional festival was first held when Oyasama was physically present.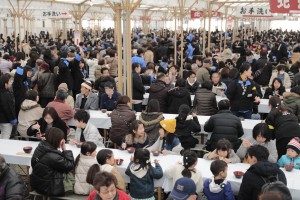 Many families and pilgrimage groups from various parts of Japan as well as some Diet members returned to Jiba during the three-day period. Blessed with fine weather throughout the period, the festival attracted a total of 71,111 people, approximately 5,000 more than last year, creating a lively atmosphere in the Home of the Parent.
The festivities started at 10:00 a.m. on each of the three days. After offering their first prayers of the year at the Main Sanctuary, the pilgrims were first treated to a celebratory sip of sake at the entrance gate, before making their way to one of six Sechi sites. They smacked their lips over the zoni—a clear broth with charcoal-roasted rice cakes and some greens—and enjoyed a happy family togetherness at the Home of the Parent.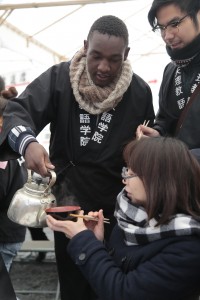 The Sechi Festival was supported by approximately 4,700 hinokishin volunteers—including the resident officials and staff members of Church Headquarters, the students of Shuyoka (the Spiritual Development Course) and Tenrikyo schools, and members of the Students Sechi Festival Hinokishin Corps. They engaged in various tasks, such as guiding visitors, serving the zoni, and roasting rice cakes.