On December 2, 2010, Tenri University invited Mr. Tatsumaro Terasawa, former ambassador to Colombia, to speak at the Furusato Assembly Hall in commemoration of a new program of study, the Americas Studies, which was launched last April at the outset of the current school year. Supported by Tenrikyo Overseas Department, the lecture and the following workshop attracted some 250 participants including university students and staff members of the Overseas Department.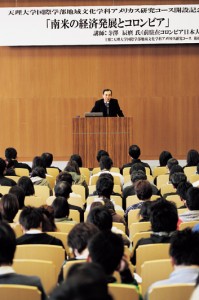 As a result of the restructuring of the university, the Faculty of International Studies—which was previously called the Faculty of International Culture Studies—now comprises the Department of Foreign Languages and the Department of Area Studies, to which the Americas Studies as well as the Asian and Oceanian Studies and the European and African Studies belong. The Americas Studies program, looking at North America and South America as one region, focuses on comprehensive research on diverse cultures of the region.
Prior to the lecture, Tenri University President Masahiko Iburi delivered an address, in which he mentioned that a total of 17 graduates from Tenri High School's evening course immigrated to Colombia from 1960 to 1961 and that one of them now serves as president of the Japanese Colombian Association. "Colombia has deep connections with Tenrikyo," said Mr. Iburi, adding, "Let us learn more about the country from Mr. Terasawa, who has a lot of experience in Colombia."
Mr. Terasawa then began his lecture, entitled "Colombia and Economic Development in South America." He first spoke about how the economy in Latin America has developed since the Great Depression in 1929 and how South American countries have found themselves economically polarized. "Colombia did not belong to either side," said Mr. Terasawa, who went on to explain the country's history and current state by referring to its traditionally liberal-democratic political climate and economic policies, as well as La Violencia—a period of civil conflict—and guerrilla organizations. He continued: "Most of you may often associate Colombia with such problems as abductions by guerrilla groups and the production of cocaine. However, the country has produced excellent politicians and has more than a few aspects that Japan ought to learn from. I would definitely like to encourage you to know the real Colombia."
The lecture was followed by a workshop on the theme "Image of Colombia," in which Mr. Terasawa answered participating students' questions regarding the tax system, the standard of living, and so forth.