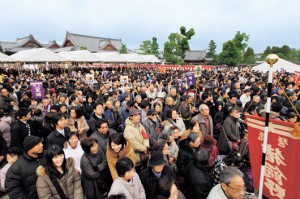 The annual Sechi Festival was held between January 5 and 7 in Jiba, and as many as 70,800 people returned during the three days.
Each day, the festival began at 10:00 a.m. with the opening of the entrance gates. Pilgrims who had offered their prayers at the Main Sanctuary made their way to the entrance gates to partake of sake and went on to one of six venues, where they were treated to zoni, roasted rice cakes served with greens in a clear broth.
On December 30, rice cake offerings for the New Year's Day Service, which amounted to about 40,800 kilograms (45 U.S. tons), were brought into the Main Sanctuary and placed on the four corners of the dais. On January 4, these round rice cakes were removed and cut into small pieces to be used in the zoni.
Roughly 5,400 people—including Church Headquarters staff, students attending Shuyoka (the Spiritual Development Course) and nearby Tenrikyo schools as well as members of the Students Hinokishin Corps from all over the country—came to contribute. They attended to various hinokishin tasks such as acting as venue guides, serving returning followers, and roasting the rice cakes.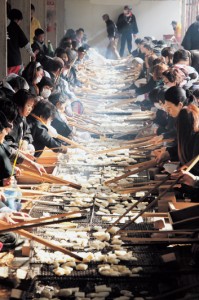 Students Sechi Festival Hinokishin Corps
At venues 3, 5, and 6, the members of the Students Sechi Festival Hinokishin Corps, all of whom were wearing blue jackets, moved briskly and cheerfully to serve returning followers with warm bowls of zoni. These high school and college students gathered at Jiba from all over Japan to join the corps, so that they could bring joy to those who had returned to Jiba for the Sechi Festival. This year, a total of 400 students (185 from high school and 215 from college) participated in this corps.
The motto of the corps was: "Pleasant hospitality with joyful smiles and cheerful voices." With this in mind, the participating students dedicated themselves to hinokishin, working as servers, dish washers, and ushers at the sites. Visitors entering the sites were warmly welcomed by their cheerful voices, saying "Happy New Year! Welcome back!" During the hino­kishin period, 54 of them attended the Besseki lectures as well.