As a sequel to Tenri Forum 2006, which was held at the Home of the Parent, we propose to hold a grand gathering for English-speaking members of the Tenrikyo community to discuss and make steps toward implementing new regional activities for our Joyous Life mission.
Sponsored by:    Tenrikyo Hawaii Convention 2011 Committee,
Tenrikyo Mission Headquarters of Hawaii
Supported by:    Tenrikyo Overseas Department
Purpose:    As an important gateway to the worldwide mission, let us gather together as fellow travelers of the joyous path in English-speaking countries to discuss together how to apply the teachings of the path to our various relationships—personal, social and communal—vis-à-vis God the Parent so as to further strengthen our relationships and to infuse other potential ties with true joy.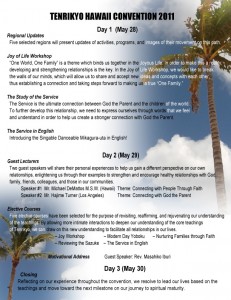 Theme:    One World, One Family—Enriching our Relationships with Joyous Faith
Target:     English-speaking members of the worldwide Tenrikyo family and friends
Date:    Memorial Day Weekend 2011
Saturday, May 28–Monday, May 30, 2011
Venue:    Hilton Hawaiian Village Beach Resort & Spa – Kalia Tower Honolulu, Hawaii, U.S.A.
Participation Fee:    US$120.00 (Application deadline on March 31, 2011)
Registration fee includes lunch on Saturday, May 28, and lunch and Luau dinner on Sunday, May 29.
Activities:    Post–Tenri Forum activity reports, workshops, the Service demonstration, speeches, section meetings, morning and evening services, Luau party (with various entertainment), and Introduction to Tenrikyo (video, exhibition, etc.)
Accommodation:    Hilton Hawaiian Village Beach Resort and Spa and Ramada Plaza Waikiki
Contact Information:    Tenrikyo Hawaii Convention 2011 Committee
Tel: 0743-63-2413    Email: thc2011@tenrikyo.or.jp