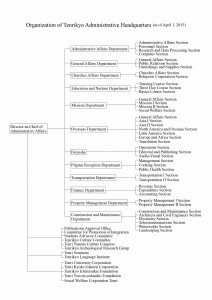 Effective on April 1, Tenrikyo Administrative Headquarters underwent structural changes affecting a number of its offices. In light of a gradual decrease in the number of Administrative Headquarters staff members and hinokishin personnel, the plans for the changes had been discussed for a few years with the aim of streamlining the organization and making it more functional and efficient. A total of 15 offices were subject to some sort of changes including the transfer and rearrangement of their duties. This is the first time in 16 years that such major changes were made. On March 27, the Regular Assembly of Religious Corporation Tenrikyo had considered and unanimously approved minor revisions to the Rules for Administrative Headquarters arising from the changes.
Seven sections were dissolved as a result of transferring their duties and responsibilities to other sections. The dissolved sections were the South Right Wing 2 Planning Section of the Administrative Affairs Department, the Ministerial Training Section of the Education and Nurture Department, the Nioigake Section and the Hinokishin Section of the Mission Department, the Human Resources Development Section of the Overseas Department, the Photography Section of Doyusha Publishing Company, and the Operations Section of the Transportation Department.
Concerning the Overseas Department, the activities and duties of the Human Resources Development Section are now carried out by the newly created Overseas Human Resources Development Committee, which is directly supervised by the head of the department.
The Course for Head Minister Candidates, which had been organized and managed by the Ministerial Training Section, is now the Training Section's responsibility. The Meeting for Newly Appointed Church Head Ministers and the Seminars for Church Head Ministers and Their Spouses, both of which had been organized by the Ministerial Training Section, are now conducted by the Mission I Section of the Mission Department.