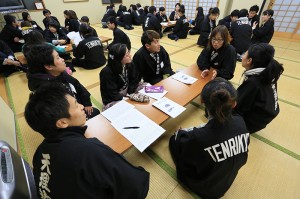 The Oyasato Fusekomi Department of Tenrikyo Language Institute (TLI) conducted mission training in Kobe City from November 12 through 19. Staying at Hyogo Diocese Administration Office, a total of 22 students from 10 countries and regions devoted themselves to missionary work with 10 female missionaries from the Hyogo Missionary House. What did they learn through walking while leaning on Oyasama? The following is the Tenri Jiho newspaper's report on the last few days of the training.
Most of the students of the Oyasato Fusekomi Department completed their program at the Japanese Language Department of TLI last spring. They nurture their faith through a variety of training activities in their current one-year program including standing guard at the Main Sanctuary with members of the Precincts Section of Church Headquarters in October and church training at regional churches in February, as well as this mission training in November.
The mission training was designed to provide students with an opportunity to experience something of the Divine Model of Oyasama and the hardships of early followers. Based on the schedule of the Missionary House, they engaged in missionary work every day without lunch in small groups consisting of two students and one missionary.
Before they set off at 9:30 a.m. each day, students called out their slogan "Oyasama is by our side!" so that they could remind one another to lean on the everliving Oyasma throughout the day. Every evening, they had a reflection time where students shared with one another what they felt and learned through missionary work.
Taking the first step in salvation work
On the 17th, the fifth day of the mission training, Lucky Theofanus, a student from Indonesia, bowed his head while saying, "Have a nice day," at houses he visited even if he got turned down bluntly. "I just hope that they spend as pleasant a day as possible," said Lucky with a bright smile.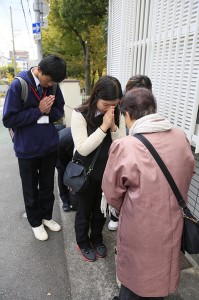 On the first day, a missionary had taken him to an elderly man's house that she often visited. They had a chat with the man, who lived by himself, for about an hour. On the way to the next house, the missionary said, "I hope his sense of loneliness was eased even a little through talking with us." This missionary's words led him to realize something important. Lucky says: "Salvation work is not just about praying for people to be saved from illness. Listening to what's on their mind is also salvation work. I realized that what's important is the mind of caring for others."
Meanwhile, on the afternoon of the 17th, Hwang Eun Bin, a student from South Korea, met an elderly man during door-to-door missionary work. When the man opened the door and heard her saying, "We are Tenrikyo," he said, "Wait a minute," and went back into the house. After a while he came out with a letter from a missionary who had stayed at the Hyogo Missionary House seven years ago. At that time, the man was suffering from illness and had the Sazuke administered by the missionary when she visited his house. They have continued to keep in touch and returned to Jiba together several times.
Eun Bin said: "Before I met him, my focus was simply on trying to convey the teachings to people I met. However, when he told me about the missionary, I realized that meeting people through door-to-door missionary work only allows us to stand at the starting line for salvation work and that what's important is to think over how we can continue to be there for them afterward. I hope to become a person who can give emotional support to people like that missionary."
On the last day of the mission training, the students, split into two groups, delivered roadside speeches and spread the name of God the Parent at railway stations as well as on street corners.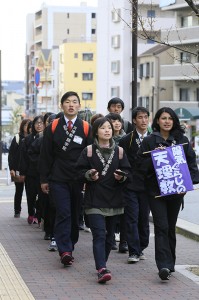 "Hello, people in Kobe! My name is Nattika and I am a student from Thailand!" Nattika Kosolsit raised her voice in front of Hanshin Iwaya Station.
Last April, her grandmother, who had handed down the faith to her, passed away for rebirth. After that, whenever she sees sick elderly people, she recalls her grandmother and thinks, "I want to do something for them."
During her missionary work, Nattika met several old people suffering from illnesses. She was able to administer the Sazuke to them. "They looked happy when I administered the Sazuke," she said.
During her roadside speech, an old woman, who had her left arm in a sling, stopped to listen to her. After the speech, Nattika offered her the Sazuke administration, saying, "Did you hurt your arm? Please allow me to pray to God for you."
The woman said, "I have been to Tenri before," and accepted her offer. After the Sazuke administration, she smiled and expressed her gratitude to Nattika.
Nattika commented: "Through this mission training, I realized the importance of taking the first step in salvation work without being hesitant. Meeting many old people let me realize that there were people I could and should help."
On the 19th, the last day of the mission training, students had a closing reflection session where they shared with one another what they felt through the training. Through their missionary work, they realized many things and learned a great deal. Having gained valuable experiences, they came back to Jiba, the Home of the Parent.