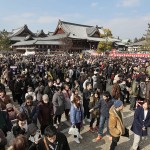 The annual Sechi Festival was held from January 5 to 7 at the Home of the Parent. The history of the Sechi Festival dates back over 150 years when Oyasama was physically present. Many families and groups of followers from various parts of Japan returned to Jiba to take part in the festival. Over the course of three days, a total of 62,123 pilgrims returned to the Home of the Parent, which was filled with joy.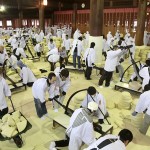 About 40,000 kilograms (44 U.S. tons) of round mochi rice cakes had been offered at the Main Sanctuary during the first three days of the new year. On January 4, the day of kagamibiraki, those large round rice cakes were taken down and sliced into small rectangular pieces by about 1,000 hinokishin volunteers in the North and West Worship Halls of the Main Sanctuary. For the following three-day period, pilgrims were treated to zoni—charcoal-grilled rice cakes and mizuna greens in a clear broth.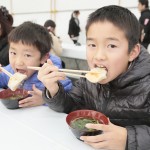 Meitoku Branch Church, which is located in Tenri City, has been offering mizuna greens to Church Headquarters for the last 30 years. The idea was hatched when Mr. Kinshichi Okura, a follower of the church who was a farmer by profession, took part in the Sechi Festival for the first time some 30 years ago and enjoyed a bowl of zoni. On that occasion, Rev. Munekazu Yamao, the former head minister of the church, suggested that he offer mizuna greens to God the Parent. Years later, Rev. Munehiro Yamao, the head minister of Meitoku Branch Church, proposed that the church followers grow mizuna greens and offer them to Church Headquarters, and doing so has become one of the well-established church activities.
On January 3, about 20 followers gathered at a field of mizuna greens, which were meticulously grown by Mr. Yasuyuki Okura, who is Mr. Kinshichi Okura's son. They harvested about 4,000 kilograms (4.4 U.S. tons) of mizuna greens and offered them to Church Headquarters on the same day.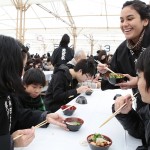 Rev. Munehiro Yamao said: "Nothing brings me greater joy than seeing many pilgrims enjoying a bowl of zoni with a smile. I would like to continue offering mizuna greens to Church Headquarters in order to help bring joy to pilgrims who take part in the Sechi Festival."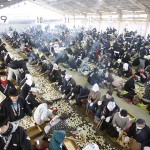 The Sechi Festival was supported by approximately 4,700 hinokishin volunteers—including resident and other staff members of Church Headquarters, head ministers of directly supervised churches, students of Shuyoka (the Spiritual Development Course) and Tenrikyo schools, and members of the Students Sechi Festival Hinokishin Corps. Their activities included serving zoni, guiding visitors, and roasting mochi rice cakes.